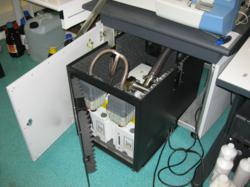 By guaranteeing a 15 dbA sound reduction, we set a new standard for noise reduction products for analytical instruments," states Tim Hawkins of FarHawk.
Evans Mills NY and Gananoque, ON (PRWEB) October 26, 2011
FarHawk Marketing Services announced today that all soundproof enclosures and mass spectrometer furniture manufactured by MS Noise will have a guaranteed sound reduction of 15 decibels (dbA) from a previous specification of 12 dbA, an improvement of 25% from previous models.
These new, quieter soundproof enclosures reduce noise emissions from vacuum pumps used with mass spectrometers and electron microscopes. Enclosures are available for all noisy laboratory instruments, including water chillers, nitrogen generators, and ultrasonic baths. The IonBench™ laboratory furniture line for mass spectrometers not only provides a 15 dbA sound reduction, it reduces the instrument footprint by up to 30%.
"By guaranteeing a 15 dbA sound reduction, we set a new standard for noise reduction products for analytical instruments," states Tim Hawkins of FarHawk. "Competitors offer either a 7 or 12 decibel reduction; and since decibels are a logarithmic measurement, we can now state we offer three to eight times better noise suppression than others in the industry."
Noise is a hazard in the modern laboratory. Although a typical laboratory noise level is not high enough to cause permanent hearing damage, noise over 45 decibels elevates stress hormones, increases hypertension and reduces the ability to concentrate. A noisy laboratory can therefore be a health and safety hazard, and not as productive as a quieter one.
A laboratory or instrument room can easily have noise levels of 60 db or more, a situation where occupants must raise their voices to be heard. Moreover, as demand for productivity in laboratories increases, the trend is to collect more instruments into available space, exacerbating an already unhealthy noise environment. Soundproof enclosures reduce that noise to a healthier level where normal conversation levels will suffice.
The MS Noise soundproof enclosures and IonBench laboratory furniture are marketed by FarHawk Marketing Services in North America via http://www.QuietVacuumPump.com. The soundproof furniture is offered through http://www.QuietBench.com.
About Farhawk Marketing Services
Founded in 1999, Farhawk Marketing Services provides sales and distribution of analytical laboratory products. With close to 70 years combined experience in sales and marketing in instrumentation and high technology, Farhawk offers valuable insights, products, and ideas to the high technology market.
About MS Noise
MS NOISE™, created in 2005, is focused on acoustic insulation in laboratories. They design, produce and deliver solutions to reduce the noise generated by any kind of equipment in analytical laboratories. MS NOISE™ is the leading manufacturer of noise reduction enclosures for vacuum pumps, water chillers, water coolers, ultrasonic bath, compressors, nitrogen generators, and more. In addition, MS Noise provides consultant services in the fields of noise, acoustic, sound and vibration.
###