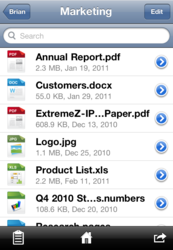 Enterprise IT managers lacking a centrally managed Mobile File Management system are facing inevitable security breaches that come with lost and compromised devices and non-native access to Active Directory and file permission enforcement.
Arlington, VA (PRWEB) October 25, 2011
GroupLogic®, the industry's leading provider of software products that unlock the power of new enterprise platforms, today announced the availability of version 3.0 of its Mobile File Management software (MFM), mobilEcho. The new version adds key upgrades that give enterprises increased opportunity to expand the power of mobile computing for increased efficiency and productivity, all while making IT management simpler, secure and more cost-effective.
"Whether the enterprise is embracing the Bring Your Own Device (BYOD) to work trend, and allowing employee-owned devices onto corporate servers, or provisioning corporate-owned mobile tablets and smartphones to employees, enterprise IT managers realize that securing corporate file access is crucial to meeting compliance regulations and protecting critical data," said Chris Hazelton, Research Director for Mobility, The 451 Group. "In addition, enterprise IT managers lacking a centrally managed Mobile File Management system are facing inevitable security breaches that come with lost and compromised devices and non-native access to Active Directory and file permission enforcement."
The new version of mobilEcho adds enhanced management and end-user features, as well as additional device support for the extremely popular iPhone. Since its initial launch in May of 2011, mobilEcho has gained significant adoption across many industries and is rapidly becoming the go-to Mobile File Management solution for both large and small companies. One very satisfied customer is Bedford Industries, a manufacturer of identification ties and tags, ElastiTag® products, and twist ties for more than 45 years that utilizes both iPad and mobilEcho for its sales and marketing teams.
"mobilEcho allowed us to make the leap to tablet computing without the worry of corporate security breaches," said Royce Boehrs, Network/Security Administrator, Bedford Industries. "Now, our employees have in-field access to crucial corporate files, and our IT team can manage the entire deployment remotely and without worry of compromising security or compliance."
Features in mobilEcho 3.0 are a direct result of feedback from today's users and include:

Support for iPhone, adding to mobilEcho's support for iPad.
Complete PDF preview and annotation, providing users a completely secure method to review, comment, and annotate documents to meet corporate security, compliance and governance standards.
Direct access to the employee's unique Active Directory assigned home directory.
Support for automatic one-way sync from the server to the employee device, for easy access to the latest document changes when offline.
Centrally managed simplified device enrollment.
Enhanced management features that include per-device status tracking, remote wipe and password reset.
"When we initially launched mobilEcho in May, one of our primary objectives was to make it effortless for IT professionals to achieve the level of security and control they needed with the introduction of iPad in their companies," said Anders Lofgren, Vice President, Product Management at GroupLogic. "We pride ourselves on our ability to listen to our customers and turn that feedback into tangible products and upgrades, and I think they will be happy to see we've done that again with mobilEcho 3.0."
mobilEcho 3.0 is available today and can be purchased via the GroupLogic web store (http://www.grouplogic.com/store/). Interested IT organizations can also take advantage of GroupLogic's free trial of mobilEcho by visiting: http://www.grouplogic.com/enterprise-file-sharing/ipad-file-system/free-trial.html. GroupLogic offers two pricing options for enterprises, including subscription and perpetual licensing.
About GroupLogic
GroupLogic® helps enterprise and education IT organizations simply and securely integrate diverse computing platforms into enterprise environments, connecting employees to enterprise files, content and assets to facilitate a more productive and efficient work environment. With more than two decades of experience, GroupLogic leads the marketplace in helping IT organizations effectively and easily manage the integration of Apple products into the enterprise ecosystem. Whether IT organizations are looking to integrate existing Apple assets, purchase additional Apple hardware like Macs and iPads, or want to take advantage of the hardware costs savings that accompany the adoption of IT consumerization, GroupLogic enables IT organizations to easily and securely manage the rapid integration of diverse platforms while ensuring resources are optimized. GroupLogic enables the enterprise to focus on what is really important – competitive differentiation, improved employee productivity, mitigated risk and reduced costs. GroupLogic's proven products—mobilEcho, ExtremeZ-IP, ArchiveConnect, and MassTransit—are in use by some of the world's most innovative companies, including Christie's, International Greetings and Omnicom Group.
GroupLogic®, mobilEcho™, ExtremeZ-IP®, MassTransit®, Zidget®, ShadowConnect™ and ArchiveConnect™ are all registered or unregistered trademarks of GroupLogic, Inc. All other trademarks referenced herein are the property of their respective owners.
© 2011 GroupLogic, Inc.
All Rights Reserved.
###