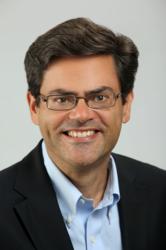 "We look forward to Pete's deeper involvement with our company" said Kotler. "He is fully committed to helping Promisec build on its strengths and prepare for the next phase of profitable growth."
New York City (PRWEB) October 24, 2011
Promisec, the leading software provider of agentless solutions for enterprise endpoint control, announced today that Pantelis A. "Pete" Georgiadis has been named Chairman and interim CEO. A member of the Promisec board of directors, he succeeds Amir Kotler, who will become an advisor to Promisec's board.
Hilik Kotler, Executive Vice President and co-founder, has been appointed to the additional role of Managing Director of Israel.
"We look forward to Pete's deeper involvement with our company" said Kotler. "He is fully committed to helping Promisec build on its strengths and prepare for the next phase of profitable growth."
"Pete has more than 20 years of experience in advising, building and operating distinctive technology and business services companies," said Lew Greenblatt, a spokesperson and member of the board of Promisec.
Georgiadis is the founder and CEO of Synetro Group, a private investment and advisory firm. Through Synetro he has built multiple successful business services and software companies. Prior to Synetro, he was chief operating officer of Lante Inc. and a consultant at McKinsey & Company.
"Promisec's technology is unique in its ability to enable companies to identify and remotely address a number of critical operational challenges, while leveraging their existing technology investments" said Georgiadis. "Our clients today depend on our products to gain end point visibility and solve critical operational issues. We have a strong team working on increasing our product leadership in the market, and I look forward to working with them to lead the company to even greater success."
"The board has begun an aggressive, national search for a permanent CEO," said Greenblatt.
Georgiadis holds a B.Sc. in Electronic Engineering from the University of Sussex (UK), an M.Sc. in Computer Science from London's Imperial College, and an M.B.A. from Harvard Business School.
About Promisec
Promisec provides unique agentless solutions that deliver unprecedented visibility that guarantees 100% accuracy for the IT business deliverables of service management, compliance, and power management. Promisec's patented technology enables IT executives to increase the effectiveness of controlling servers and endpoints by optimizing the strength of existing IT solutions and processes. Promisec is a privately held company with offices in New York, Israel, India, and Paris. Our customers include Forbes Global 2000 companies and other organizations in the manufacturing and service industries as well as government and health care institutions. For more information on Promisec see http://www.promisec.com.
360 Madison Ave|15th Floor| New York City, NY 10017 | 1.212.743.9916 | http://www.promisec.com
# # #