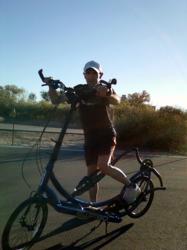 I've found a secret formula back to running again.
San Diego, CA (PRWEB) October 25, 2011
Top U.S. Mountain Runner, Simon Gutierrez, has an exceptional mountain running career that includes winning both the Mount Washington Road Race and the Pikes Peak Ascent three times each. His inspiring career came to a screeching halt in February 2010, however, when a common knee surgery went terribly wrong. He nearly lost his leg and was told he would never run again. But Gutierrez defied the odds and several months later returned to training with a heavy reliance on cross-training, primarily on the ElliptiGO. When he returned to racing in 2011, Gutierrez surprised himself and his supporters by besting his 2009 Pikes Peak Ascent time by more than 3 minutes. Even though he was not able to train at his usual running intensities or volume for nearly 2 years, his recovery and rehabilitation strategy using ElliptiGO had improved his running and made him a stronger athlete.
Jenny Hadfield, endurance athlete, coach and co-author of Marathoning For Mortals, sat down with Gutierrez to talk about his 2011 comeback. "I had a medial meniscus tear in my knee from slipping in a cross-country race," said Gutierrez. "I decided to have it taken care of with surgery, and unfortunately an everyday procedure went very wrong." After seeking several medical opinions, it was determined he had necrosis and the bone in his thigh was slowly dying. "I was mad at first, especially when I was told I'd never run again, but I'm an optimist so I started to put the pieces together and focus on healing," explained Gutierrez.
Simon's first concern was saving his leg. He traveled to Vail and surrounded himself with a team of orthopedic specialists who got him off his knee for an entire month. Several months later, and after five MRI's, they determined that Simon's leg was healthy enough to begin exercising again. "That's when I started using the elliptical machine because it allowed me to perform weight-bearing activity without any impact on my knee," said Gutierrez. "Six weeks later I learned about the ElliptiGO and went for a ride. I couldn't believe it – I could push myself but had no pain at all. I thought to myself, I love this so much I won't even miss running if I can ride this. It was a truly magical moment because I felt like I was running, something I never imagined I'd do again."
Simon began weaving ElliptiGO rides into his recovery program and eventually was able to move from walking to running. "I started running again and rather than going crazy and running a lot, I did just a little and ran when the knee felt strong enough," said Gutierrez. "I'd ride the ElliptiGO almost daily to develop cardiovascular and muscular strength, and sprinkle in a little running. Eventually I started thinking, if I can run an 8-minute mile, which is still much slower than my race times, I'd be happy."
Only a few weeks later, he began to push the intensity on the ElliptiGO but kept the running at a very easy effort. "I wasn't doing any hard running, just jogging," recalls Gutierrez. "I'd push on the ElliptiGO, jog in between, and I noticed that my fitness just kept coming back." Amazingly, when he tested his speed, he could run a sub-6 minute pace without much effort.
"It was a miracle," declared Gutierrez. "I thought to myself, I've found a secret formula back to running again. If I could do this, maybe I could race again." And that is exactly what the U.S. Mountain Running champion did. This summer, only 18 months after his catastrophic surgery, he returned to the racing circuit and astounded everyone with a fifth-place finish at the Mount Washington Road Race followed by a third-place finish at the Pikes Peak Ascent.
The 45-year old Gutierrez's comeback performances are made even more impressive by the fact that he was at least a decade older than any other top-five finisher in either race. Equally surprising is that his recovery and rehabilitation strategy with ElliptiGO actually improved his running times, even though he hadn't competed for nearly two years. His time at the 2011 Mount Washington Road Race was almost identical to his time in 2009 and at the Pikes Peak Ascent this year he bested his previous time by more than 3 minutes.
"The amazing thing is I haven't trained at my typically hard running intensities," said Gutierrez. "Is it muscle memory, ElliptiGO training or the fact that I'm so darn happy to be running again?" No one can answer that. What we will find out, however, is whether this ageless runner with his new training philosophy can get fit enough to win another title at a major mountain race.
For more information about ElliptiGO Inc. and ElliptiGO Athletes, visit http://www.elliptigo.com, or follow them on Twitter @elliptigo and Facebook at http://www.facebook.com/elliptigo. ElliptiGO® elliptical bikes are available for purchase in the U.S. online and from more than 200 retailers across the country. To find a dealer near you visit http://www.elliptigo.com/dealer-locator.
About ElliptiGO
Based in Solana Beach, California, ElliptiGO Inc. launched the world's first elliptical bicycle in 2010. By modifying the elliptical trainer motion and combining it with the functionality of a bicycle, the ElliptiGO® line of bikes delivers a high-performance workout experience that closely mimics running outdoors while eliminating the impact. It provides the most comfortable, fun and efficient way to get out and stay active. The full line of ElliptiGO® bikes is available for purchase at select retailers nationwide and through the company's website: http://www.elliptigo.com.
###