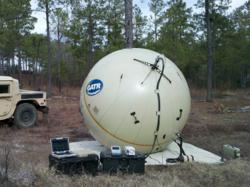 "With these certifications in place, the GATR inflatable antenna/terminal fills a long-time unmet requirement for a high-gain, low-weight satellite terminal that will directly benefit the soldier."
Huntsville, Alabama (PRWEB) October 25, 2011
Today GATR Technologies announced its win of a $7.3 million contract with D&S Consultants, Inc. (DSCI) to upgrade GATR's 1.8m and 2.4m terminals to operate at X- and Ka-Bands to access government owned Wideband Global SATCOM (WGS) satellite constellations. The contract has a $7.3 million ceiling with an initial $1.4 million initial task order to fund terminal certification. GATR is a subcontractor to DSCI, a prime on the WWSS-P (World-Wide Satellite Systems Program) contract. Tom Wasilewski, Program Manager, DSCI, states, "With these certifications in place, the GATR inflatable antenna/terminal fills a long-time unmet requirement for a high-gain, low-weight satellite terminal that will directly benefit the soldier."
GATR Technologies' VP of Engineering, Dr. Larry Lowe, comments, "This is a critical program in the evolution of our product line." GATR's 1.8 and 2.4m products are currently certified for Ku-, C-, and commercial X-bands. Dr. Lowe continues, "We look forward to working with DSCI and the Marine Corps System Command on this contract." This effort is scheduled to result in certification of X-band in Q2, with Ka-band to follow in Q4.
About the GATR Antenna
The GATR Antenna System is a deployable inflatable satellite communication solution. The GATR is a proven, ultra-portable, lightweight, stand-alone communications terminal that can also provide a replacement/contingency solution for large antennas or boost the gain of small-dish terminals.
The GATR antennas (1.8m and 2.4m) have the same communication capability as heavier, less portable rigid dishes, but can be packed into as few as 2 transit cases weighing less than 100 lbs. each. The unique inflatable ball, when anchored properly, is more stable in wind than conventional dishes; it is lighter and has a much smaller packaged volume than any comparable rigid dish. The GATR is also quick and easy to set up (inflated, anchored, and on satellite in under 30 minutes).
The GATR is currently used by U.S. Military, Intelligence, and Homeland Security organizations at Ku-, C-, and commercial X-band.
About DSCI
DSCI (http://www.DSCI.com) is an employee-owned products and services company headquartered in Eatontown, N.J., that provides unique security solutions with expertise in cyber operations, biometrics, mission command, command & control, information systems, communications systems, mobile adhoc networks, electronic warfare, intelligence, surveillance, reconnaissance, simulation, training, and instrumentation.
About GATR Technologies
Incorporated in 2004, GATR Technologies manufactures inflatable satellite communications terminals. GATR's patented, unique design enables deployment of large aperture satellite terminals in airline checkable cases, making it ideal for first-in deployments, remote applications and contingency scenarios where transportation and space are limited (includes U.S. Military, Intelligence, and Homeland Security organizations). Recently GATR was awarded Huntsville's Technology Small Business of the Year, and President Paul Gierow was presented with the Russell Brown Executive Leadership Award. GATR also has been on the Inc. 500/5000 list for 3 years running. More information on GATR can be found by visiting our website: http://www.gatr.com.
# # #