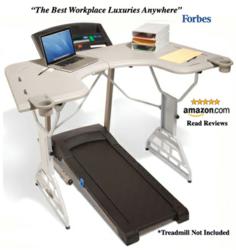 Scottsdale, AZ (PRWEB) October 24, 2011
Researchers at Des Moines University have recently found that exercise such as walking (which stimulates major muscle groups and offers a variety of preventative health benefits) also increases neurogenisis in the brain by increasing the number and quality of neurons, neurotransmitters and synaptic connections. This increase in neural capacities translates into improved brain function and reduced levels of depression. Employers seeking to improve employee health and productivity can now offer TrekDesk treadmill desks to allow employees an opportunity to capitalize on the physical and mental health benefits of daily movement.
In an interview with the Des Moines Register last week Dr. Julia Moffitt, associate professor physiology and pharmacology at Des Moines University commented on her studies regarding the positive benefits of exercise, such as walking, on the brain. "We used to think you had 'X' number of neurons and that was it. Now they're finding in specific areas of the brain, for instance the hippocampus, which is involved in learning, memory and part of your emotional brain, that's not the case. We see increased nerve growth in those areas and exercise can help stimulate that.
"There have been some studies indicating that the antidepressant effects of exercise are nearly equivalent to that of pharmacologic drug therapy for mild to moderate effects of depression. So as a first-line treatment, it does quite well," she added.
Commenting on the litany of new studies in the emerging field of sedentary science, Steve Bordley, the CEO of TrekDesk Treadmill Desks was not surprised by the University's findings. "It is gratifying to see that science is showing us at every turn that an exercise as simple as walking holds such great promise for improving health and cognitive function as well. Our challenge now it to spread the message that sedentary lifestyles and work environments are crippling our nation."
Designed to fit any existing treadmill, TrekDesk is an affordable, full sized workstation that allows individuals the opportunity to gain the necessary amount of exercise daily to maintain health, prevent disease, strengthen muscles, boost mood and productivity, without requiring additional time during the day or extra motivation.
TrekDesk is currently available for sale online at TrekDesk.com for $479.00 including free shipping.
Join the TrekDesk "Movement Revolution" to learn more on TrekDesk's Facebook page.
# # #