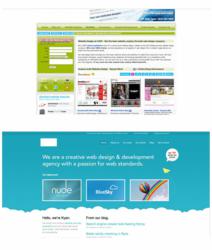 Even trained designers can be guilty of crowding up a design from time to time, but white space is a 'must have' in every design.
San Diego, CA (PRWEB) October 26, 2011
According to a recent study in the popular business book, The 24-Hour Customer, "People see more than 34 billion bits of information per day – an equivalent of two books per day." Consumers are continuously bombarded with advertising messages and can suffer from information overload. "More data will be generated in the next four years than in the history of the world," the book contends.
With more and more studies strengthening the case of information overload and advertising clutter, Bop Design, a San Diego website design agency, reminds small business owners of the most important tip when designing marketing collateral for their firm – white space is good space. White space is essentially the empty space between the texts or images in the composition of a page. "Whether it's a website, brochure or business card, clients want to fill up the white space to say more about their company", states Kara Jensen, Bop Design Creative Director. Bop Design reminds small businesses that customers are bombarded with brand messages all day long and it's important that the most important messages are "front and center" with no distractions.
For instance, with website design, Bop Design advises all small business owners to practice discipline when making decisions on the design of their firm's website. "There may be some unutilized space on the top right corner of the website and you are thinking to yourself, what can I put there? Or maybe the back of your business card simply has your tagline and for some reason, you think it's a good idea to list all your services there as well. Even trained designers can be guilty of crowding up a design from time to time, but white space is a 'must have' in every design," says Jensen.
White space, also known as "negative space" helps bring focus, balance and legibility to design. Having negative space around specific design elements allows viewers to focus on what's most important – helping to communicate a brand message quickly and clearly. The goal is never to communicate everything at once; it's to communicate the most important message quickly.
As an example, Bop Design cites the two anonymous website examples above. Jensen asks, "Both companies do the same thing but which website design is more effective?"
"Clearly, design #2 is a more effective website design because it communicates with ease and a visitor can easily find what they are looking for," states Jensen. The Eye Tracking Update study confirms that empty space allows a visitor to focus on the most important message at hand. Also, "white space" does not technically have to be white – it can be an area of color that is empty.
According to a study from Eye Tracking Update, an organization focused on eye tracking news and trends, "Viewers love white space. White space is good. It's tempting to fill up a page with text and images, but if you offer a viewer a white space, not only does it give them a place to rest their eyes; it helps focus information so readers know where to find it. Too much text overwhelms." (http://www.eyetrackingupdate.com)
Jensen adds, "When designing your next marketing piece, PowerPoint or brochure – keep it simple, get rid of anything that isn't absolutely necessary and learn to embrace the white space."
About Bop Design
Bop Design is a boutique marketing communications firm headquartered in San Diego with offices also in the New York metro area. We express your business' values through web design, branding, advertising and print design. We also help attract your ideal customer through search engine optimization and search engine marketing. Our focus is on small businesses that want an external team of marketing specialists to help give their brand an edge in the marketplace.
###