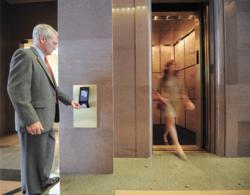 MORRISTOWN, NJ (PRWEB) October 25, 2011
Schindler's innovative PORT (Personal Occupant Requirement Terminal) elevator technology is helping move occupants faster and more efficiently at Dallas's premier office complex: The Crescent®. It is the first complex in Dallas to benefit from Schindler's third-generation destination dispatch system.
Twenty-four passenger elevators in two 18-story towers and one 19-story tower are being modernized with the PORT Technology and Schindler's Power Factor 1 regenerative drives. The entire project is expected to be complete in late 2013.
PORT Technology, best understood as the central nervous system of a building, functions as a two-way communication interface between the occupants and Crescent's environment. The system's visible aspect is a sleek, futuristic interface positioned at access points and elevators around the building. Behind the stylish touch screen is a powerful software system, capable not only of calculating the optimum route to any destination within the building, but also of "learning" how its occupants typically move around. With this information, PORT Technology primes the elevators to direct and transport people quickly and safely to their individual destinations. Furthermore, Schindler's patented technology works with RFID badges to identify passengers and call elevators for personal service.
"What makes Schindler's PORT system special is the ease with which managers at The Crescent can configure the system to accommodate a wide range of needs in real time," says Michael Landis, vice president, Marketing for Schindler. "Whether it's helping to meet new energy efficiency goals, updating security, or adapting to people with special needs, unprecedented levels of customization can be achieved."
"With PORT, we are not just buying an elevator modernization for today, but a system for the future, one that is scalable and expandable," said Rick Flusche, operations manager, The Crescent. "The access control features with RFID badges provide personalized 'concierge service' to our tenants, which add security and value to our building."
Energy Saving Features
o Each PORT terminal's proximity sensor tells it when to be active and at all other times puts it into low energy consumption mode.
o When the terminal screen illuminates, an ambient light sensor determines only the brightness level required, again optimizing energy usage.
o The PORT Technology helps ensure elevator trips are as efficient as possible. This produces a very resourceful use of energy even during heavy traffic.
o Elevators feature Power Factor 1 drives that reduce energy consumption by up to 35% compared to standard drives and regenerate energy back into the building's electrical system.
The Crescent, considered Dallas's premiere multi-purpose business complex, is owned by Crescent TC Investors, L.P. In recognition of its sustainability practices, the office towers have achieved LEED® EB O+M Silver Certification from the United States Green Building Council (USGBC). The complex includes 1.3 million square feet in three contiguous buildings, including first-class hotel, spa, retail, restaurants and services in addition to Class A office space.
About Schindler Elevator Corporation
Schindler Elevator Corporation designs, manufactures, installs, services and modernizes a broad range of elevators, escalators and moving walks for almost every building type. The company is the North American operation of the Switzerland-based Schindler Group, a leading global mobility provider with approximately 43,000 employees operating in more than 100 countries. Schindler supports sustainable urban development with safe, reliable and ecologically sound mobility solutions. Recently named one of Forbes Magazine's 100 Most Innovative Companies for 2011, Schindler equipment moves one billion people everyday all over the world. For additional information about Schindler Elevator Corporation, visit the company's Web site at http://www.us.schindler.com.
###