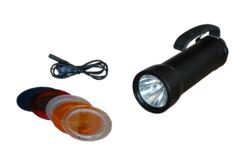 This high powered, rechargeable, submersible HID handheld light represents our toughest HID Magnalight yet
Kemp, Texas (PRWEB) October 26, 2011
The RL-12 50 Watt HID lantern from Larson Electronics' Magnalight.com provides divers, utility workers, emergency services and professional personnel with an effective and powerful lighting solution that can operate for 4 hours on a single charge. Constructed of machined aluminum and featuring deep threads and watertight seals, this 50 watt HID lantern is waterproof to 100 meters and resistant to damage from impacts and vibrations. The HID lamp and three inch reflector assembly in this lantern produces 4,500 lumens of intense light and is capable of creating a light beam reaching up to 5,500 feet in length. A unique rear mounted magnetic switch provides easy operation and allows the user to toggle between the main HID lamp and the rear mounted LED light. When the batteries have run for approximately 120 minutes and can no longer power the main HID lamp, the user can toggle to the rear LED lamp and produce an additional 240 minutes of low level illumination. This feature is useful for operators who may require additional lighting security in operations that can exceed the 2 hour runtime of the main HID lamp. A simple 110-230V charging unit plugs into standard outlets and recharges the integral lithium ion battery pack in 4.5 hours and is included with purchase. Magnalight rounds out this high powered light package by including a carrying case and a set of lenses for producing colored light in applications requiring specific beam colors. This moderately sized yet powerful HID lantern is ideal for diving, military/law enforcement/emergency service and utility applications, and anywhere serious power and waterproof operation are a must and abusive conditions may be encountered.
"This high powered, rechargeable, submersible HID handheld light represents our toughest HID Magnalight yet," said Rob Bresnahan with Larson Electronics' magnalight.com. "This light is so well sealed that it can be used as a dive light, so we see a lot of gritty, wet area industrial applications for the new Magnalight RL-12."
Larson Electronics' Magnalight.com carries an extensive line of HID flashlights, LED flashlights, intrinsically safe flashlights, explosion proof flashlights and military/law enforcement spotlights. You can view Larson Electronics' Magnalight line of portable lighting at Magnalight.com. Magnalight can be reached directly by calling 1-800-369-6671 or 1-214-616-6180 for international inquiries.
###