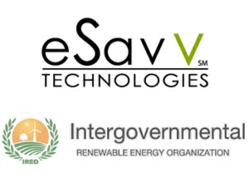 It makes me and my staff feel good that we can be a part of such an important global cause and help support an incredible organization like IREO
Lincoln, RI (PRWEB) October 26, 2011
eSavV Technologies is committed to quality mobile, web and software products and services and is also committed to corporate social responsibility. For this reason, eSavV Technologies has been chosen as the technology and media consultant firm to United Nations affiliate, IREO.
IREO is a progressive organization promoting awareness for the pressing environmental issues facing our planet and they practice what they preach. They recently signed a joint venture to develop a 3,000 acre sustainable agricultural community in Haiti and are supporting the development of Waste-to-Energy power plants in Latin America. There is much more this great organization is doing and eSavV Technologies will be there to support these initiatives via sophisticated web, mobile and portal software applications and online marketing.
Michael D. Croft, CEO of eSavV Technologies, is using his company's technology resources to develop a sophisticated website application, an advanced web 'portal' and an online marketing campaign to help IREO spread its message.
eSavV will provide guidance to IREO for how it can use targeted web, mobile and portal technology to promote its mission and initiatives to gain worldwide recognition and support. The first step eSavV took was to redesign the IREO website application. Michael explains, "The redesign included behavior-based design changes. Behavior-based software design is a study of human behavior and how people react to various styles, colors, images and media in the context of software applications. With the important messaging IREO is looking to convey to its website visitors, behavior-based design is paramount to invoke emotion and action. The psychology behind the IREO website design was that of positive reinforcement, rather than 'dooms-day' scare tactics. It sends the message that work needs to be done, however, success can be achieved with the right people, direction and support."
Michael explains why he partnered with IREO, "This is one of my contributions to show my appreciation for our planet and its resources. It makes me and my staff feel good that we can be a part of such an important global cause and help support an incredible organization like IREO."
Michael is not only leveraging his company resources to support IREO and its mission, he is also using his own personal time to learn more about the issues surrounding corporate sustainability. He is attending Harvard University for his Masters degree and added corporate sustainability to his course-load. "To support an organization like IREO, it is important to not only understand the technology, but to also understand the business. Without a strong understanding of the business, it would be difficult to maximize a technology solution for that business. We cannot be experts for all our client's businesses so we work with the people who are, fostering our collaborative efforts to yield the highest returns."
Jeffery Lagomarsino is the Deputy Secretary General for IREO. "We chose eSavV Technologies to build our website application and to advise our organization on all aspects of our web communications and outreach. In addition to their expert and professional staff, eSavV Technologies' integrity and commitment to IREO's environmental and social objectives distinguished them as an ideal strategic partner."
Jeffery explains that IREO and eSavV are researching an advanced 'portal' web application. "This portal will allow governments, private companies, and non-profit organizations to come together to share experiences and stimulate new projects and partnerships that promote sustainable development. Nothing of its kind exists today and with this portal we hope to create a new paradigm for sustainable projects."
About eSavV Technologies
eSavV Technologies specializes in mobile application software design and development, custom business software solutions, website design and development, internet marketing and IT staffing. eSavV Technologies is a niche team developing smart, high quality technology solutions. For more information visit http://www.eSavV.com or call (888) 316-6303.
###