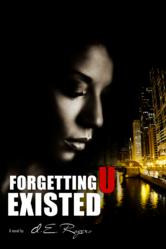 "FORGETTING U EXISTED WILL HAVE YOU REMEMBERING THE LOVE AND PASSION YOU FELT THE VERY FIRST TIME YOU WERE IN LOVE!"
-VIVICA A FOX, ACTRESS/PRODUCER
San Francisco, CA (PRWEB) October 25, 2011
REGI Books announces the new release of their latest novel, "Forgetting U Existed," by d. E. Rogers. The book delves into the world of first love at a depth that all can relate to and enjoy. Almost everybody has someone who they loved so deeply and cherished so much that they just smile when a thought of that person comes to mind.Though many years and a few other loves might separate them, their hearts, and souls will always share a special connection with them. With the advancement of social media such as Facebook, opportunities for reconnecting are almost endless.
As d. E. Rogers states, "Your first love is someone who has left a special imprint on your mind and heart, and they will forever remain a part of you. We are who we are today because of all we have experienced leading up to this point. The experiences we shared with our first love played an important role in shaping us. They are the people who showed us what loving someone really meant."
In Forgetting U Existed (ISBN: 978-0-9708808-5-7), Forrest Wade didn't plan on his first love, Renee, coming back into his life a decade and half later. But she has, and he must decide what path he will take. Should he listen to his head and play it safe? Or listen to his heart and give love another chance? The path that he chooses will change his life forever. No matter which path he takes, lives will be changed and hearts will be broken despite his attempts to heal his own.
Many people will be faced with this situation at some point in their lives. The choices that they make will touch many more lives than just the two hearts that still long to reconnect. How do they abandon spouses, kids, and mortgages? Yet how do they ignore an invite from the one person for whom their current life may be worth sacrificing? For many people using social media, that is the million dollar question today.
"No love is perfect, but there's something about a first love that seems so innocent and pure," adds Rogers. "Most first loves happened at a time when money meant nothing and love reigned supreme. That person truly loved your barest essence. And on many occasions you believed they walked on water." Even though they may have moved beyond that first love, people will always remember how that person made them feel alive by the special way they kissed and touched them. I'm sure that if they take a moment to close their eyes, breathe slowly, and think about that love, a smile will appear.
About d. E. Rogers:
An accomplished author, d. E. Rogers has written six other published novels: "Counterfeit Friends, Crossing Color Lines," "I Know She Didn't," "Just Like Your Daddy," "Color Line," and "White Lie." He has also had several short films produced, for which he has received great recognition. His book, "Forgetting U Existed," is available in bookstores and online. To learn more about d. E. Rogers, visit the Web site at http://www.theworldofdavid.com.
###