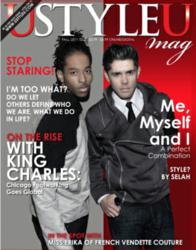 Never letting anyone define my worth, not with their words and not by their standards.
Matteson, IL (PRWEB) October 25, 2011
uStyleu Mag was created to provide fashion and a voice for young adults between the ages of 16 and 24 using bold fashion spreads to tackle socially conscious issues like race relations, weight and eating disorders.
According to Chloe Graham, uStyleu's 17 year old editor-and-chief, the magazine covers issues that occurs every day in schools and on college campuses.
uStyleu features real people, emulating real life in fun fashion spreads. "uStyleu's concept is a perfect combination for me because I love fashion, and I'm very respectful of other's opinions even if I don't agree with them." "If a subject matter is relevant to our readers, it's important to uStyleu," Chloe says, "The elements you will never find in uStyleu Mag are hate and disrespect," she added.
The first issue of uStyleu was published in July 2011, featured light-hearted fashion spreads promoting self confidence and inner beauty. The current issue plows deeper with more mature relatable subject matters for uStyle's targeted age groups like interracial dating and the popular media's limitations based on a person's weight and appearance. Regardless of the subject matter, uStyleu's goal is to create fashion spreads that are fashionable, uplifting and fun shown with dignity and positivity.
uStyleu features local Chicago area students, aspiring models, designers, photographers, entertainers and writers who are interested in expanding their portfolios or just want to have fun. Funding for the magazine is provided by organizations interested in sponsoring a "Fashage" (a uStyleu term meaning Fashion with a Message) and ads from advertisers.
After the first issue published, uStyleu received over 200 emails from young adults, teachers and organization leaders thanking uStyleu for featuring normal people with flaws. The magazine is saying its ok not to be perfect, but on the road to improving ourselves, it doesn't hurt to look good, feel good and set your own definition of fashion.
Chloe Graham is a high school senior and spends her time working part-time at a local bank and is currently regional president of Top Teens of America, a youth organization promoting community support, leadership and services. With TTA, Chloe loyally participates in the Lupus, Breast Cancer and MS Campaigns yearly and volunteers her time in senior citizen communities, community clean up initiatives and food pantries.
From the ages of 12 to 14, Chloe worked as a youth reporter for rapper/entertainer Common's non profit organization, The Common Ground Foundation. Chloe has interviewed noted people like poet Nikki Giovanni, entertainers, Will.i.am, Musiq and other well known entertainers and sport figures. The former director of Common Ground Foundation, Jodie Blum, inspired and supported Chloe to create uStyleu Magazine. Common told her to not to look at what she does as a hobby, but as an entrepreneur. Chloe ran with Common's advice and created uStyleu Magazine.
uStyleu is currently available to purchase on-line at http://www.ustyleu.com or at MagCloud.com, keyword uStyleu. Contact us at contact(at)ustyleu(dot)com to sponsor a "Fashage Magazine Spread."
# # #