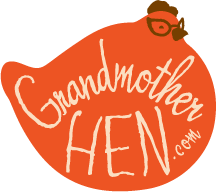 Grandmother Hen is the online community dedicated to the modern grandparent. From healthy living to showing off the newest addition to the family, we're the safe and secure community where wisdom rules the roost.
(PRWEB) October 29, 2011
GrandmotherHen.com is the newest online community dedicated to the lifestyle of the modern grandparent. It provides a safe haven for active, passionate grandmothers who seek to contribute as well as gain credible, authentic knowledge in relation to grandparenting. GrandmotherHen.com allows grandmothers to show off every photo and share details about their grandparenting experiences with a like-minded community. The site features original articles, product rankings, critiques and more. A notable feature of the site is the Grandkids Care Kit. Created to encourage collaboration between parents and grandparents on the care of grandchildren, the Grandkids Care Kit supplies grandparents with parent-provided information on everything from daily schedules to allergies in order to ensure that every visit away from Mom and Dad runs smoothly. In addition, the online platform also encourages improved communication between grandparents and parents in various capacities via forums, articles and the Grandkids Care Kit bulletin board.
The communal and social elements of GrandmotherHen.com set it apart from other grandparenting websites. The majority of information contained on the site is contributed by the actual community of grandmothers and parents, making it the premier reference for grandparents and parents alike. GrandmotherHen.com's articles are written by experienced grandparents and parents, professional bloggers and licensed medical experts to address a broad range of topics of current interest, including health and safety concerns, the latest technology, travel and lifestyle ideas as well as toys, education and activities.
The founders of GrandmotherHen.com recognize and aim to address the challenges that arise out of the generational gaps between parents, grandparents and grandchildren. The website provides a safe space for parents and grandparents to work together to ease these gaps. Many articles address common misunderstandings between the generations while forums allow both grandparents and parents to discuss the articles. By providing comprehensive guides, the Grandkids Care Kit also aims to resolve miscommunications that may arise when grandparents are caring for their grandkids..
Tech-savvy parents will want to introduce their children's grandparents to GrandmotherHen.com as a great way to commune with other grandparents. Parents will also want,to take advantage of the Grandkids Care Kit tools and to discuss the insightful articles, from a parenting perspective, with other parents and grandparents. GrandmotherHen.com is the place where you'll always know what's best – for your (grand)children's sake.
###