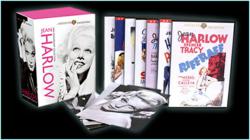 "The films of Jean Harlow, are among our most requested titles," says Movies Unlimited President Jerry Frebowitz. "We are thrilled to offer the Jean Harlow: 100th Anniversary Collection."
Philadelphia, PA (PRWEB) October 27, 2011
The platinum blonde screen siren that wowed Hollywood throughout the 1930s is highlighted in Jean Harlow: 100th Anniversary Collection, a seven-disc DVD set that showcases her glamour, personality and talent in films ranging from comedies to dramas to thrillers. The set, from the Warner Archive Collection, is now available at Movies Unlimited, one of the world's leading video retailers.
The seven spotlighted films were all made for MGM Studios and have been among the most requested by fans of classic cinema at Movies Unlimited.
Featured in the 7-disc set are:
Bombshell (1933): A hilarious comic turn by Harlow propels this show biz satire. Jean plays a movie star tired of Tinseltown as well as the efforts of her scheming publicity manager (Lee Tracy). To get away from it all, she lands in a desert resort where she falls for a socialite (Franchot Tone), who is unaware of her fame.
The Girl from Missouri (1934): Jean Harlow is a gold-digging blonde from the Midwest seeking a rich guy with help from man-obsessed brunette pal Patsy Kelly. After becoming a chorus girl, she makes a play for Franchot Tone, the playboy son of millionaire Lionel Barrymore.
Reckless (1935): When showgirl Harlow falls for alcoholic womanizer Franchot Tone, her friend (and real-life beau) William Powell tries to stop the romance, but even with a sober Tone, the romance proves to be destined for failure. May Robson and Mickey Rooney also star.
Riffraff (1934): In this socially conscious drama, Jean Harlow is a tuna cannery worker caught between fisherman and labor leader Spencer Tracy and wealthy cannery owner Joseph Calliea.
Suzy (1936): Harlow shows off her dramatic chops in the title role, playing the American showgirl who flees London for Paris after she's framed for the death of her inventor husband (Franchot Tone) during World War I. When in France, she marries aviator Cary Grant, but her past eventually catches up with her.
Personal Property (1937): Cash-strapped American widow Jean Harlow has her possessions looked over by trouble-making playboy Robert Taylor in England. In order to get out of debt, she gets cozy with Taylor's wealthy brother (Reginald Owen), but there's a secret behind the family fortune.
Saratoga (1937): Harlow died at the age of 26 during the filming of this horse racing comedy which marked her sixth teaming with Clark Gable. She plays a woman who plans to get her family out of debt by getting hitched. Bookie Gable, who is holding the keys to the family stud farm, takes a liking to her and tries to dissuade her from going down the aisle with a rich stockbroker (Walter Pidgeon). Lionel Barrymore and Hattie McDaniel co-star.
Movies Unlimited is one of the oldest and most reliable video retailers in the world, specializing in DVD and Blu-ray titles. The Jean Harlow: 100th Anniversary Collection can be ordered through their website at http://www.moviesunlimited.com or by calling 1-800-4-MOVIES. The Philadelphia-based company also publishes the annual encyclopedic 800-page Movies Unlimited DVD Catalog.
###