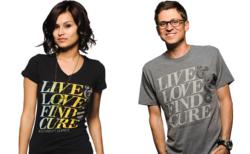 "We hope to see children escape the grasp of cancer through this week's campaign." - Campaign Manager Brett Skinner
Los Angeles, CA (PRWEB) October 25, 2011
During the week of Oct. 24 Sevenly will launch a partnership with CURE Childhood Cancer through its t-shirt based social good model. The campaign will raise awareness and funds for the nonprofit organization, which is dedicated to conquering childhood cancer through research and support of patients and their families in their most critical time of need.
"The thought of helping a child who has undergone Chemotherapy is a great reward," said Sevenly Campaign Director Brett Skinner. "We hope to see children have a glimpse of joy through this week's campaign efforts."
Sevenly has seen tremendous success since launching its innovative seven-seven model in June and the company has already raised over $86,600 for various charities including Compassion International, Malaria No More, Water.org & Mercy Ships. During last week's campaign for Live58, a charitable movement to end extreme global poverty, Sevenly was able to raise $5,089 to rescue victims of human trafficking in India.
"58: is such a distinctive organization. Their commitment to end extreme global poverty is remarkable," added Skinner. "With their partnering charities they have the ability to uplift an entire community! It was a blessing to work with them last week."
Each campaign is focused not only on raising funds for the partner charities but on raising awareness through Sevenly's extraordinary social media platform, which exposes the campaign to over 15 million people in just seven days.
Since it was founded in 1975, CURE has focused its efforts on improving the care, quality of life, and survival rate of children with cancer. The organization has raised millions of dollars to fund cutting edge research at the Aflac Cancer Center Blood Disorders Service at Children's Healthcare of Atlanta and Emory University School of Medicine.
Sevenly is a co-profit company founded in June 2011 to raise capital and awareness for the world's greatest causes. Each week Sevenly partners with one qualified nonprofit to sell a shirt specifically designed for that week's campaign, with seven dollars from each shirt sale going to the charity. Run by CEO Dale Partridge, the company's goal is to provide support to charities through increased awareness, funding and following. To learn more about Sevenly visit http://www.Sevenly.org or contact support@sevenly.org
Founded in 1975, Atlanta, Georgia-based CURE Childhood Cancer has raised millions of dollars for research and ongoing education of pediatric cancer and is focused on supporting childhood cancer experts, locally and nationally, who work daily to discover a cure for pediatric cancer. CURE Childhood Cancer currently funds two pediatric oncology Fellows at the Emory University School of Medicine. CURE Childhood Cancer also offers programs that address the critical/urgent needs of patients and their families. For more information go to http://www.curechildhoodcancer.org or contact Ms. Kristin Connor, Executive Director, at 770-986-0035.
###