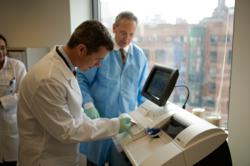 "We thank His Royal Highness the Crown Prince for taking time during his busy schedule to recognize the developing partnership between Radiometer and Mount Sinai, one of the leading acute care hospitals in the United States."
New York, NY (PRWEB) October 25, 2011
The Crown Prince Couple is in New York to present the official promotional project, "Creative and Healthy for Life," launched by the Consulate General of Denmark in New York. The Crown Prince Couple will participate in several activities, promoting a healthy and active lifestyle as well as sustainability in the areas of design, architecture and gastronomy.
GLOBAL LEADER IN HEALTHCARE
Denmark is among the most innovative nations within healthcare solutions and the Danish approach to development, deployment, and use of healthcare equipment is drawing international attention.
The Danish company, Radiometer, is a world-leading supplier of both equipment and methods in various medical testing processes such as blood gas analysis. Currently, Radiometer is conducting a clinical trial of one of their newest instruments in Mount Sinai's Emergency Department.
"We thank His Royal Highness the Crown Prince for taking time during his busy schedule to recognize the developing partnership between Radiometer and Mount Sinai, one of the leading acute care hospitals in the United States," said Radiometer's President Peter Kürstein. "We look forward to working with Mount Sinai to provide the industry's most advanced blood gas testing solution to support their world-class clinical laboratory."
DANISH EQUIPMENT AT AN AMERICAN HOSPITAL
The Crown Prince's visit to Mount Sinai included a tour of the hospital's clinical laboratory, a world-class facility that features state-of-the art automation to expedite the delivery of critical data to Mount Sinai's clinical caregivers. Enabled with Radiometer's 1st Automatic system, the new ABL800 FLEX analyzer will provide automated capabilities for blood gas analysis, a measurement of respiratory function in the acutely ill. Several Radiometer analyzers have been installed at Mount Sinai, including an ABL825 blood gas analyzer in the Stat Lab. An AQT90 (pending FDA clearance) immunoassay analyzer is also installed in the emergency department as part of a clinical trial being conducted by Mount Sinai for Radiometer.
ABOUT RADIOMETER
Radiometer is a world leader in the development, manufacture and distribution of technologically advanced acute care testing solutions. Radiometer's products and services simplify and automate all phases of acute care testing, so hospitals can get fast results, reduce workload and the risk of errors, and improve cost effectiveness.
ABOUT HRH THE CROWN PRINCE
HRH the Crown Prince, son of HM the Queen of Denmark II and HRH the Prince Consort, was born on May 26, 1968 and is heir apparent to the throne. HRH holds a MSc in political science and studied at Harvard University 1992- 1993. The Crown Prince served at the Denmark's Permanent Mission to the UN in New York in 1994, and was posted to the Royal Danish Embassy in Paris as First Secretary of Embassy from October 1998 to October 1999. May 14, 2004, HRH the Crown Prince married HRH the Crown Princess. They have four children.
# # #