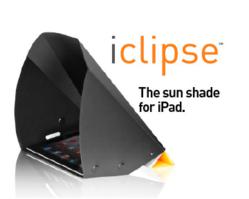 iclipse™ immediately solves an iPad weakness when used outdoors, yet at the same time, makes the iPad more useful in more situations.
Baltimore, MD (PRWEB) October 26, 2011
Responding to the needs of iPad owners worldwide, iclipse™ is designed to make the iPad screen more comfortable to read outdoors. http://www.iclipsestore.com
iclipse™ is the sunshade for iPad which blocks sunlight and ambient daylight glare that produces a "washed-out" screen. iclipse™ enhances the usefulness and enjoyment of the iPad by allowing people to use it just about anywhere.
For over a year, Amazon Kindle has been touting that its e-ink screen is easy to read, even in bright sunlight – going head-to-head against the iPad and other tablet computers with backlit LCD screens. However, for those who prefer an LCD screen device like iPad, using iclipse™ is the smart solution for the user who wants to read and surf the web on an iPad outdoors in bright light.
"The clean, simple design is the key to its effectiveness and usability." said Michael Diliberto, creator and product designer of iclipse™. "iclipse™ immediately solves an iPad weakness when used outdoors, yet at the same time, makes the iPad more useful in more situations."
iclipse™ not only solves the outdoor readability issue, it also enhances the workflow for anyone who wants to use the iPad in the field, like outdoor photographers, filmmakers, contractors and boaters to name a few.
iclipse™ also aids in data privacy for those who want to keep information away from prying eyes by creating a shield which blocks the view of curious onlookers. With iclipse™, the iPad can be used in close quarters such as airplanes, trains or high traffic areas like a local coffee shop. No matter the location, iclipse™ helps to prevent others from looking over the users shoulder to browse their digital data.
How iclipse™ works

iclipse™ creates a dark hood around the iPad to block sunlight, daylight and reflections while maintaining a comfortable viewing angle for reading and typing.
Patent pending design is one-piece construction – there are no extra parts.
Made in the USA of tough, durable polyethylene - highly rated by the EPA for being environmentally friendly.
Fits iPad and iPad2 with the cover on - no need to remove it. (Fits Apple and most third-party covers up to 9 7/8 inches wide.)
Fits easily into a briefcase or purse when folded.
Nothing ever touches the screen with no need to attach anything to iPad.
Unfolds in seconds. And folds flat just as fast.
Perfect for users who need to work privately.
Where can I get iclipse™?
iclipse™ is $34.95 with free shipping in the US and Canada.
It is available at iclipsestore.com.
About iclipse™
iclipse™ is a product of Mechanica LLC and Diliberto Inc (diliberto.com), a creative advertising and design firm providing marketing communications solutions for regional and national advertisers.
# # #