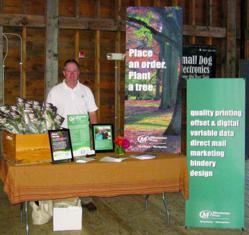 Farmingdale, NY (PRWEB) October 27, 2011
Minuteman Press centers of Hinesburg and Montpelier, Vermont unveil their "Place an order, plant a tree" concept. Jon & Nancy Cunningham, owners of both locations, recently initiated the program in partnership with The Arbor Day Foundation to help replant forests in need across the United States. The concept is simple; for every order placed at either of their shops, regardless of its size, a donation equivalent to the planting of one tree seedling ($1) will be made.
Jon's pressman, Kevin Curley, actually came up with the idea after both men kept receiving emails that read "Don't print this email, save a tree." Knowing that Vermonters take the environment and sustainability seriously, the tree planting program seemed like a simple, tangible, way to show current as well as potential customers that Minuteman was making a real effort to do something positive for the environment and the community. They officially kicked off the program in September at a Vermont Businesses for Social Responsibility event by handing out Norway spruce seedlings with custom labels. Since Place an order, plant a tree's inception in August, donations equivalent to 660 trees have been made, with hopes of reaching 1600 by the year's end, and 4000 trees donated by August 2012.
Minuteman Press' home office commend Jon, Kevin, and the rest of the Hinesburg and Montpelier, Vermont staff on a wonderful, inventive idea to give back. We wish you all continued success in all future undertakings that come your way.
###