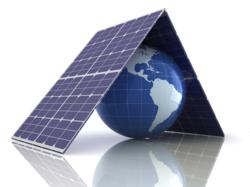 Reliable, economical, accessible.
Baton Rouge, LA (PRWEB) October 25, 2011
Rengoy LLC, a solar panel manufacturer based in Baton Rouge, has signed a Production and Supply Agreement with Wild Brush Energy Inc. for up to 5MW of photovoltaic modules.
This agreement indicates Renogy's commitment to participate in Wild Brush Energy's future Solar Park projects in the US. As the official supplier and turnkey developer on these potential projects, Renogy agrees to provide high quality PV solar modules as much as 5MW. These Solar Park projects will be able to supply more than 1,000 households with renewable energy and reduce their relative carbon emissions annually. It is reported that global solar industry generated $38.5 billion of revenue in 2009 with forecasts of $96.8 billion by 2014.
Renogy's extensive vertical integration and strict quality control ensures a reduced cost at each step of production chain while maintaining a high quality, with top ranked PTC ratings and module efficiency.
"Renogy is excited to work with Wild Brush Energy to supply modules for their innovative solar parks," Renogy's president Yi Li commented. "We believe that these projects of collaboration could make solar more accessible for more US families."
About Renogy LLC
Renogy is a global producer and distributor of solar panels. Being vertically integrated from solar ingots to solar modules, Renogy specializes in developing turnkey PV projects and delivering the most reliable and cost effective solar energy solutions. By strategically partnering with leaders from different industries, Renogy creates added value for their clients. Renogy's state of the art production of top quality solar cells and the use of superior accessories enable them to produce high performance solar modules that maximize the energy yield of the solar system per unit area. Interested customer please visit http://www.renogy.com or call 225-578-5182.
About WildBrush Energy Inc.
Wild Brush Energy, Inc. operates as a renewable energy company. The company focuses on identifying, developing, and financing clean air energy producing alternatives, such as solar energy, wind farms, and hydro power. It explores for green energy producing opportunities, such as large scale commercial wind farms in Europe, as well as solar and hydro energy prospects within North America and internationally.
###