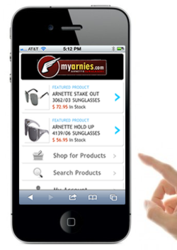 Doral, FL (PRWEB) October 25, 2011
Award winning shopping cart software company, Fortune3, is launching its newest feature today, M-Commerce, for its current and future customers. Users of the Fortune3 online shopping cart can now have their ecommerce stores viewed in its mobile version for optimized performance from mobile and tablet users worldwide.
Fortune3's new mCommerce interface is today's most complete and customizable mobile commerce solution available to ecommerce merchants, those seeking to start new ecommerce websites or change shopping cart software providers. Fortune3 users now have every web page on their ecommerce site automatically displayed with a superb mobile appearance for any shopper that accesses the website from their mobile devices, even the store's checkout.
The mobile feature on the Fortune3 shopping cart platform will be made available starting on October 25, 2011.
"We're very excited to offer this to our current and future customers as we know how important it is for a website to perform on a mobile device moving forward. Through analytics and in-house research, we can see the explosive growth of mobile traffic and mobile sales coming through and we're always on the cutting edge to make sure our customers have the latest in ecommerce technology," says VP of Operations, David Farache.
Please visit http://www.fortune3.com for more information.
###