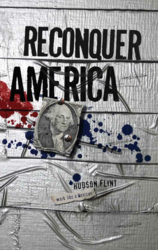 Do not give help to the most needy first
Atlanta, GA (PRWEB) October 26, 2011
Wednesday, October 26, 2011 at 4:35pm on WGST.com and 640AM radio in Atlanta, Rusty Humphries is first to unveil the insights of Hudson Flynt about his newly released book and movement called Reconquer America.
The movement to Reconquer America is inspired by the Tea Party movement with one caveat. The battle plan to the movement is devoid of politics. How can this be since recommended reading list references controversial political orators such as Rush Limbaugh, Neal Boortz, Mark Levin, Sean Hannity, Newt Gingrich, Dick Morris and more? Tune in to today's revealing conversation with Rusty today at 4:35pm.
The precepts unveiled in his first chapter describe sacrificial living with the chapter title of 'Work Like a Mexican'. When asked about the title of his first chapter, he responds, "These people have demonstrated work ethic of this country's first generation". He adds, "Besides, calling the first chapter 'Work Hard and Live Sacrificially' just doesn't have the same ring."
Hudson Flynt believes that there is more to being American than a list of laws to follow penned by federal, state, and local officials. He says that the individual must take responsibility for his or her own actions and decisions. Hudson's precepts are focused on inspiring individuals to take action without waiting on the next law to be passed.
Hudson continues, "Emulate first generation Americans with a must-happen commitment and the long-awaited change begins. In order to move from where you are you need two things. For one, you must have desire, and two, opportunity. Desire comes from within. Opportunity comes from this great country".
Race relations and the discussion thereof have widely been in the news. When Hudson was asked about his book's reference to Blacks and Whites sited in chapter four, 'Survive Like Jews and Overcome Like African-Americans' that some Blacks are considered lazy and loud with a lack-luster attitude about learning and some Whites are considered sneaky, backstabbing, and silently racist while employing a system rigged against non-Whites, Hudson Flynt frankly and strongly reprimands those whom he finds dragging down America spotlighting racial tensions without solutions. Be sure to listen live today for Rusty Humphries spirited opinion.
Hudson Flynt's battle plan to reconquer America does not forget the economy. Throughout, solutions are designed to plug the leaks that weaken individuals, thus the American economy - solutions on how to get a job, get a raise or promotion, why starting a business now is the perfect time, and restarting a business makes perfect sense.
Through the eyes of Flynt, Americans are reminded of the power and responsibility of freedom and builds a patriotic crescendo in which Americans are encouraged to innovate through recession, be excellent in all, and celebrate everything that makes individuals and America great.
What's more, Hudson plans to introduce his first Reconquer America rally called Operation Anti-chaos on The Rusty Humphries Show with possible comments about Occupy Wall Street, Occupy Atlanta.
Don't know talk show sensation, Rusty Humphries? Rusty has hosted radio shows in New York City, Dallas, San Diego, Atlanta, and Ft. Wayne. He has also worked at radio stations in Chicago, Los Angeles, Seattle, Kansas City, and Portland, Oregon.
Rusty is a singer/songwriter. In addition to writing more radio morning show jingles than anyone alive (heard on radio stations all over the world), his song, Do The Bart Simpson, made national charts and was the inspiration for The Simpson's Multi-platinum CD. Tune in today at 4:35pm to hear two Americans, Rusty and Hudson, unleash their passion for individual responsibility that comes with freedom.
Sandra Powell
Content Director
Reconquer America
###