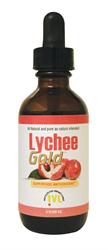 (PRWEB) October 26, 2011
This proprietary fruit extract blend contains lychee fruit extract, along with fruit juices and extracts including:
CamuCamu, a fruit rich in Vitamin C, believed to enhance immune response.
Cassis, which is believed to be a natural anti-inflammatory
Pomegranate juice, which stimulates nitric oxide production and may help relax blood vessels and fight heart disease and hypertension.
What is Lychee Fruit?
Lychee is a rare fruit that originated in South China but can be grown in most sub-tropical climates around the world. The people of South China consider lychee to be an important part of their culture, referring to it as "The King of Fruits." The lychee fruit is about 1½ to 2 inches in size, oval to rounded heart shaped. It has a deep red bumpy skin that peels off very easily. To eat a lychee, you peel off this skin, and underneath it you will find a white or pinkish fruit that is translucent and glossy, much like a grape, but tastes much sweeter. Lychees have a sub-acid sweet taste and a wonderful freshness to them that is hard to describe.
Most importantly, lychee fruit is an excellent source of anti-inflammatory polyphenols, including one called oligonol,a low-molecular weight polyphenol that just might be Lychees most powerful health-promoting ingredient.
Lychee fruit is also high in Vitamin C and the essential mineral Potassium. It also offers protein, B Vitamins and other essential minerals such as magnesium.
How Can Lychee Improve Your Health?
Lychee fruit has a rich history in Traditional Chinese Medicine, in which it has been used to relieve coughing and gastralgia and is believed to reduce tumors and enlargements of the glands. According to legends, ancient devotees have consumed from 300 to 1,000 per day.
In modern times, people have used lychee fruit to relieve digestive problems. One stomach-ulcer patient in Florida reported that after eating several fresh lychees he was able to enjoy a large meal that, ordinarily, would have caused great discomfort. Because the lychee is so high in anti-inflammatory polyphenols, it has the potential to bring relief to people with conditions like inflammatory bowel disease.
Other potential benefits include:
Improved absorption of nutrients: Because lychee fruit is naturally rich in essential fatty acids, it improves your absorption of fat soluble vitamins like A and E.
Improved cardiovascular health: Lychee is rich in polyphenols and Vitamin C, two powerful antioxidant compounds. Antioxidants are beneficial to the whole body, including the cardiovascular system. Lychee is believed to help inflammatory conditions that can lead to heart attack. It is also believed to thin the blood and protect against deadly clots.
Improved skin: People who eat the fruit regularly have reported smoother, even skin tone with fewer "spots."
Can Lychee Reduce Belly Fat in People with Metabolic Syndrome?
One Japanese study suggests that it might. In 2009, Jun Nishihira and others at the Department of Medical Management and Informatics, Hokkaido Information University found that in a small group of human volunteers with metabolic syndrome, the subjects taking the low-molecular weight polyphenol Oligonol, extracted from lychee fruit, experienced a statistically significant reduction in waist circumference when compared to the control group.
Metabolic syndrome is a condition characterized by centralized obesity, hypertension (high blood pressure) and disturbed glucose and insulin metabolism. Metabolic syndrome has been linked to increased risk of both type 2 diabetes and heart disease.
For the study, 18 (male, 14; female, 4) adult volunteers with abdominal circumference over 85 cm were enrolled and divided into two groups, Oligonol and placebo groups. All subjects took two capsules of Oligonol (50 mg/capsule) or placebo twice a day for 10 weeks.
Body weight, abdominal circumference and visceral fat volume were significantly decreased in the oligonol group compared to the control. Insulin resistance was improved by Oligonol in conjunction with elevation of serum adiponectin. Adiponectin is a protein hormone that is produced in the fat cells of the human body. This hormone is known to impact the regulation of glucose in the blood as well as play a role in the processing of fatty acids in the blood stream. Obesity tends to decrease adiponectin levels.
"These studies strongly suggest that oligonol would be a beneficial supplement for the prevention and improvement of metabolic syndrome", says one of the researchers.
Lychee Gold: All the Benefits of Lychee and More
Improve your health today with Lychee Gold. Enjoy improved immune health along with the benefits of lychee's unique polyphenol antioxidant properties. Contact IVL today!
About The Institute for Vibrant Living®
A leader in the dietary supplement industry, the Institute for Vibrant Living is committed to providing customers with evidence based nutritional supplements. Their unique product line reflects a belief that anyone can achieve lifelong health. All products and formulations are based on extensive research, clinical trials and case studies. All products are 100% guaranteed.
To learn more about The Institute for Vibrant Living® please visit their website at http://www.IVLProducts.com.
This information is meant to be used to educate the reader and is not intended to provide individual medical advice. Before you take any supplement, please consult your physician or other licensed healthcare professional to determine if it's appropriate for you. This information is brought to you by The Institute for Vibrant Living®.
###