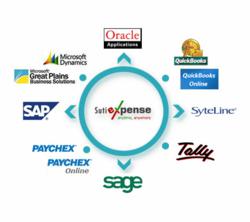 We believe that we should get expense report data exported in any format our customers require. If a customer changes accounting systems, we will be there to support their new export requirements." - said N.D. Reddy, founder and CEO of SutiSoft Inc.
Los Altos, CA (PRWEB) October 25, 2011
SutiSoft Inc, a trusted provider of web hosted and enterprise solutions, today announced integration of SutiExpense with various accounting systems for faster reimbursement of employee expenses.
SutiExpense supports data exports to various accounting systems such as QuickBooks, QuickBooks Online, Oracle, Paychex, Paychex Online, Syteline, SAP, Sage, Tally, Microsoft Dynamics and others. The export can be customized by the administrator in SutiExpense.
When exporting from SutiExpense, data can be filtered by various criteria. There are additional options available to update payment statuses and more.
Data is easily extracted into accounting system compatible formats. These exported files can be directly imported into accounting systems for processing.
The integration/export eliminates duplicate entries and the need to re-enter data manually. It also reduces the possibility of fraud and helps to reimburse employees faster.
SutiExpense is available in multiple versions: Small Business and Medium/Large Business. Visit http://www.sutiexpense.com for more info.
Pricing starts at $5.95 per month per user.
About SutiSoft Inc
SutiSoft Inc. is a privately held company founded by N.D. Reddy, a successful Entrepreneur with over 30 years of experience in both the Hardware and Software industry as a Founder, and CEO. The Company's leading edge enterprise/SaaS application software products range from business productivity solutions such as Electronic Signature, Expense Management, Document Control Systems, Governance, Risk and Compliance, Security Solutions and others. The company's products are developed using Java, Flex, HTML 5, AJAX and other cutting-edge technologies which allow SutiSoft to retain its core values which are Simple, Scalable, Secured, and Seamless. Headquartered in Los Altos, California USA, SutiSoft has offices in Northern California, India, Germany and Japan. Additional information is available at http://www.sutisoft.com.
###