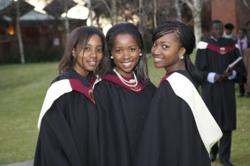 (PRWEB) October 25, 2011
The Diamond Empowerment Fund, a New York based 501 (c) 3 non-profit organization, announced today that it is continuing its commitment to empowering African youth and will increase funding for African Leadership Academy by 40% in 2012.
African Leadership Academy is one of three beneficiary schools receiving funds from Diamond Empowerment Fund, whose mission is to empower Africans in diamond-producing nations through education. The other two are CIDA City Campus, a business college in Johannesburg, South Africa, and the Top Achievers Program in Botswana.
"We're proud that DEF can play a key role in helping to educate, cultivate, develop, and support future leaders who will provide ethical and productive governance throughout the African continent, especially in diamond-producing nations," said Nancy Orem Lyman, DEF executive director. "To be able to increase our funding for this outstanding program by 40% is indeed a milestone, and wouldn't be possible without the tremendous support of the diamond industry that we received in Hong Kong and through our fundraising efforts around the world. In addition to furthering our support of existing programs such as ALA, DEF is also looking to fund additional education programs with a focus on skills training and sustainable job creation."
Based in Johannesburg, South Africa, African Leadership Academy (ALA) was founded by Ghanian-born entrepreneur Fred Swaniker, on the belief that ethical leadership is the key to transforming the African continent. A residential pre-university institution, ALA is aimed at developing ethical, visionary, effective, and accountable leaders across the entire continent of Africa. To be accepted, students must show extraordinary leadership potential, entrepreneurial spirit, and a passion for leading Africa ethically. ALA recruits students from all 54 African nations; at present, 41 nations are represented at the Academy.
"The continued support of African Leadership Academy from the Diamond Empowerment Fund is a true testament to the fact that we are on the right path to empower and develop the next generation of African leaders," said Bryden Sweeney-Taylor, Executive Director of African Leadership Foundation, ALA'S U.S. partner.
DEF made its first grant to ALA in 2009 to establish the "DEF Scholars" scholarship program for students from diamond-producing nations in Africa. The hugely successful "Diamonds in the Sky Hong Kong" fundraiser last month will allow DEF to not only re-commit to its support of ALA, but also to increase funding for the program by 40%, enabling DEF to help support every single student who comes to ALA from diamond-producing nation. Students enrolled at ALA come from the following diamond producing countries, Botswana, Democratic Republic of Congo, Ivory Coast, Liberia, South Africa, Sierra Leone, Tanzania, and Zimbabwe.
ALA's first graduating class of 88 surpassed all goals, with 92% of students admitted to college, and secured a collective amount of more than $10 million USD in college scholarship funds to schools including Harvard University, Yale University, Stanford University, Dartmouth College, and Duke University.
Forbes magazine recently featured a profile of ALA founder Fred Swaniker, named, at age 34, to Forbes' list of Africa's Most Powerful Men Under 40.
About the Diamond Empowerment Fund
The Diamond Empowerment Fund is a New York based non-profit organization (EIN# 20-5967103) that raises money to support education initiatives in African nations where diamonds are a natural resource. It was established in 2007 by a group of individuals and businesses in the diamond and jewelry industry, with the belief that education is essential to empower both individuals and society to reach their fullest potential.
###