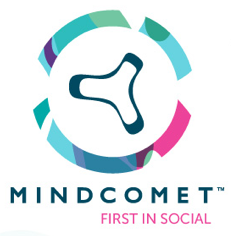 "Social media has been our agency's true passion for many years," said Marcelle Turner, CEO of MindComet. "We are shifting our business to focus exclusively on social media services and further cultivate our leadership in the space."
Orlando, FL (PRWEB) October 25, 2011
MindComet, a pioneer in the interactive agency space, today announced a strategic shift in the company's business. The company, which has been building award winning websites and interactive solutions for Fortune 500 clients since 1999, will not engage in new website development initiatives moving forward.
"Social media has been our agency's true passion for many years," said Marcelle Turner, CEO of MindComet. "We are shifting our business to focus exclusively on social media services and further cultivate our leadership in the space."
MindComet was a groundbreaker in social media marketing and started providing its services prior to the mainstream adoption of platforms such as YouTube, Twitter and Facebook. In 2003 the company began offering outreach services on message boards and forums. The company later turned to blog marketing and was inducted into Marketing Sherpa's Viral Marketing Hall of Fame for their "Blogs in Space" program. In 2006 MindComet incubated and spun-out the industry changing social media sponsorship firm IZEA, which raised $14 million in venture capital before going public in May 2011.
The company currently provides social media services to a variety of their website development clients. Under the new structure businesses will be able to purchase individual social listening, engagement and amplification services for as little as $3,000 per month. "We will provide competitive intelligence, manage social media profiles and help clients grow their online fans. Our programs simplify social media and allow our clients to partner with experts in the space," said Turner.
"MindComet has helped Pfister define our social media strategy and build our online community," said Brad Callahan, Senior Marketing Manager. "We are very excited by MindComet's shift to focus exclusively on the social space and look forward to continued innovation by the MindComet team."
"This is a bold move for MindComet," said Ted Murphy, MindComet's Founder and Chairman of the Board. "We will be restructuring our team, streamlining our offerings and making some strategic investments. I have long believed that social media will be at the center of all future media, marketing, sales and communications. I support this transformation and back the vision of the executive team." Murphy has made an additional investment in the company to support the transition.
About MindComet
Founded in 1999, MindComet is first in social media. We provide our client partners with managed social media listening, engagement and amplification services designed to build their fan base and their business. Our experts simplify the process of launching, optimizing and maintaining social media programs by providing ongoing education, insights and recommendations. For more information about MindComet visit http://www.mindcomet.com
###