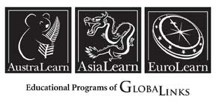 "Many students mistakenly believe scholarship programs are only awarded to a small, select group of students. Our scholarship and funding resources are actually much broader."
Denver, Colorado (PRWEB) October 26, 2011
GlobaLinks Learning Abroad, a provider of international education programs across the globe, is awarding $600,000 annually in scholarships to lessen financial burdens for students who want to make academic, professional, personal, cultural and social discoveries through study abroad.
"Challenging economic conditions globally are keeping some students from discovering the many benefits of study abroad, including personal growth, global workplace exposure and cultural adaptation skills," said Cynthia Banks, founder and executive director of GlobaLinks Learning Abroad. "To counter this effect, GlobaLinks Learning Abroad is helping students tap into every possible resource for studying abroad, including scholarships, travel grants, financial aid transfers from home universities, payment plans and affordable high-quality program options."
GlobaLinks Learning Abroad annually offers a wide variety of scholarship awards to enhance the affordability of semester, year and summer-abroad programs. It also offers financial aid counseling and budgeting advice for all of its programs to students, parents, advisors and study abroad offices.
"Many students mistakenly believe scholarship programs are only awarded to a small, select group of students," Banks said. "Our scholarship and funding resources are actually much broader, which is why we strongly encourage all participants in our programs to explore available scholarship and funding options, as well as our many affordable, high-quality programs in Australia, Asia, New Zealand, Europe and the South Pacific."
GlobaLinks Learning Abroad scholarship categories include:
Affiliate Student Awards – Students who attend U.S. or Canadian institutions affiliated with GlobaLinks Learning Abroad receive discounts on their semester abroad program fees and are eligible for affiliate student awards.
University-Sponsored Scholarships – These awards at 28 institutions in Europe, New Zealand and Australia are offered only to GlobaLinks Learning Abroad students by its partner universities.
Travel grants – In partnership with Qantas Airways, Air New Zealand and Air Pacific, selected participants are provided with awards equivalent to the international round-trip airfare to/from programs in Australia, New Zealand or Fiji.
Special Awards – These awards are targeted to certain populations or to support specific initiatives and additional resources through national organizations, home universities and academic departments. These scholarships include:

Diversity Scholarship – Awards of $1,500 to eligible students of an ethnic minority.
University of California and California State University Awards – $20,000 in scholarships for eligible students from any UC or CSU school.
Gilman Scholarship Support – Students who earn a Gilman Scholarships will receive $500.
Foundation for Global Scholars Awards – This 501C(3) non-profit organization, founded by GlobaLinks Learning Abroad, provides thousands of dollars annually in scholarships to students who might otherwise be unable to afford an international experience.
For more details about the above opportunities, as well as additional scholarship and study abroad funding resources, go to GlobaLinks Learning Abroad's Scholarships page.
About GlobaLinks Learning Abroad:
GlobaLinks Learning Abroad, based outside Denver in Westminster, Colo., is a leading provider of education abroad programs for college-level students in destinations across the globe. Students from more than 800 universities and colleges across North America choose to study with GlobaLinks Learning Abroad each semester via its educational programs:
AustraLearn.org, with semester and year abroad, internship, and summer programs in Australia, New Zealand and Fiji via 35 partner universities, and degree programs in Australia and New Zealand at more than 30 institutions: DegreesOverseas.com.
AsiaLearn.org, with semester, year, and summer programs in China, Hong Kong, Japan, Malaysia, Singapore, South Korea and Thailand via nine partner universities.
EuroLearn.org, with degree, semester, year, and summer programs, including research abroad, in the Czech Republic, England, Germany, Greece, Scotland, Wales, Ireland, Italy, and The Netherlands via 17 partner universities.
Since it was founded in 1990, GlobaLinks Learning Abroad has sent more than 20,000 students on educational programs worldwide. For more information, visit GlobaLinks Learning Abroad.org or check out the latest news on our programs and partners at GlobaLinksNewsWire.com.
###