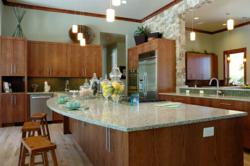 Plano, TX (PRWEB) October 27, 2011
GLASS RECYCLED - a Texas-based company that is saving the environment, 'one kitchen at a time' by using discarded glass to make stunning kitchen countertops and flooring has - created a eco-friendly remodeling checklist.
When looking into remodeling details that are friendly to the environment, consider a few factors. First, think about what is being demolished, and check with your local city waste department to find out which pieces can be recycled. Old cabinets, flooring, sinks, etc. are ideal candidates. Taking the time to do this alleviates these items just going to the city dump and will give you the satisfaction of doing your part. Then consider items that can be incorporated into the new design that also help the environment – ecologically friendly paint, GLASS RECYCLED kitchen and bath countertops, energy-saving appliances, etc. Also seek out professionals that are knowledgeable and experienced in this field.
Keep in mind that even little things can make a big impact. Amazingly, the average GLASS RECYCLED kitchen countertop 'upcycles' 750 discarded glass bottles and jars? This process of using recycled material and recreating it into new uses – or 'upcycling' – is quickly becoming a trend in many new construction and remodeling projects around the world. Considering it takes 100 million years for them to totally decompose, imagine the stress-relief on landfills to make better use of these materials by giving them new life in a remodeling project. A GlassSLAB kitchen remodel will not only be the most beautiful and unique surface in the neighborhood, but will give the satisfaction of knowing something has really been done to protect the future of Planet Earth.
Most find that remodeling their kitchen is a daunting task. There are so many options as well as prices, not to mention the likely addition of new appliances, cabinets, flooring, etc. One of the biggest decisions the overall project evolves around is what kind of kitchen countertops to use.
Granite, marble, tile, and a number of other natural and synthetic materials come to mind. But most families do not realize there is a choice for your kitchen remodel that is not only stunning, but cost-effective and eco-friendly as well?
"What makes our GlassSLAB product so appealing is the ability to custom creates any design that can be imagined," stated Tim Whaley – who invented and patented this process. "First, we have a number of glass, porcelain, mirror and mother of pearl colors, and varying sizes of each. Then we can combine it with a custom epoxy to match virtually any paint color. The result is a kitchen countertop surface that is as durable as granite but is heat and scratch resistant, does not require a seal and does not emit any potentially toxic volatile organic compounds."
GlassSLAB can be made to any specified size and shape for your kitchen countertop, bathroom, utility room, gameroom bar and more. Installation is easy and can be performed by anyone familiar with traditional granite or tile installations.
Visit the GLASS RECYCLED website at glassrecycled.com or call 888.523.7894 for more information on their various recycled glass products for commercial and residential use and be sure to go to the sites' exclusive Design Gallery gives you the opportunity to custom create a sample to help begin your kitchen remodel process.
###