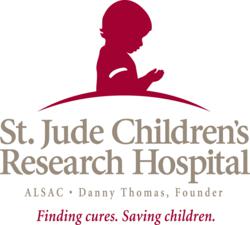 Give thanks for the healthy children in your life, and give to those who are not.
Santa Barbara, CA (PRWEB) October 31, 2011
Beginning November 1st, as shoppers head out to get a jump-start on the holiday shopping season, Territory Ahead customers will be able to support St. Jude Children's Research Hospital during the eighth annual Thanks and Giving campaign.
Customers who shop with Territory Ahead from November 1st through December 31st will be asked to make a donation to St. Jude Children's Research Hospital this holiday season.
"We are thrilled that Territory Ahead has returned to the Thanks and Giving family this year," said Marlo Thomas, national outreach director for St. Jude. "As shoppers pick up their gifts at Territory Ahead this holiday season, they will have the chance to help ensure that the children of St. Jude and their families get the chance to enjoy many more holidays for years to come."
This is the second year, Territory Ahead will participate in the Thanks and Giving campaign, a holiday campaign that asks shoppers to "Give thanks for the healthy children in your life, and give to those who are not." The campaign unites normal business competitors with one goal during the holiday season — to build awareness and raise funds to support the vital research and treatment being done at St. Jude.
St. Jude is the nation's leading pediatric research and treatment center devoted solely to children with cancer and other deadly diseases and the only hospital that covers all of the costs for treatment, travel, food and lodging for each patient and a family member.
Since it opened its doors nearly 50 years ago, St. Jude has developed protocols that have helped push survival rates for childhood cancers from less than 20 percent to 80 percent overall. In fact, the survival rate for the most common form of childhood cancer, acute lymphoblastic leukemia, has risen from just 4 percent in 1962 to 94 percent today.
To make a donation, visit Territory Ahead.
About Territory Ahead
Territory Ahead began its journey in 1988 as a new kind of clothing company, offering personality through special fabrics; fine details; and easy, wearable designs.
Territory Ahead designs and develops men's clothing and women's clothing in-house, focusing on lifestyle rather than fashion trends. Through their direct mail catalogs, retail stores and website, they promote fun and adventure by blending compelling outdoor imagery, clever editorial and their own eclectic brand of clothing.
Wear to next? Territory Ahead recently released its fall 2011 Leather Weather collection, including artisan men's leather jackets and luxurious women's sweaters.
About St. Jude Children's Research Hospital
St. Jude Children's Research Hospital is internationally recognized for its pioneering research and treatment of children with cancer and other life-threatening diseases. The hospital's research has helped push overall survival rates for childhood cancer from less than 20 percent when the institution opened to almost 80 percent today. It is the first and only National Cancer Institute-designated Comprehensive Cancer Center devoted solely to children, and no family ever pays St. Jude for care. For more information, go to http://www.stjude.org and follow St. Jude on http://www.facebook.com/stjude and http://www.twitter.com/stjude.
###