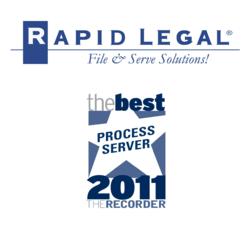 "We see ourselves as partners to law firms and courts and the "Best Process Server" award recognizes our effort to make Process Serving for the legal community easy, fast and always done right."
David Nill, President and CEO of Rapid Legal

Chino Hills, CA (PRWEB) October 25, 2011
Rapid Legal, Inc., the industry expert for online court filing, process serving & document retrieval, today announced that it was awarded the "Best Process Server for 2011" by the Recorder, a leading provider of essential California legal content. The Recorder's independent survey among many attorney services firms was conducted in July 2011. Rapid Legal once again is leading the industry by providing excellent and reliable services to the legal community, proven by this vote of confidence by law firms, companies and government agencies across the United States. Here are some of the highlights of Rapid Legal's award winning services:

Nationwide process servings from your desktop
Electronic delivery of your proof of service within 48 hours
Serving documents in accordance with the local, state and federal laws
Same Day and Next Day Service Levels available based on your request
Member of the California, Washington, New York and National Process Servers Associations
For more information on Rapid Legal's process serving, court filing and document retrieval services and pricing, please go to our website.
"We are very grateful for this award and the confidence given by our customers", says David Nill, President and CEO of Rapid Legal. "We see ourselves as partners to law firms and courts and the "Best Process Server" award recognizes our effort to make Process Serving for the legal community easy, fast and always done right."
Many law firms confirm that expertise and reliability are cornerstones for their legal administration work and also the reasons why they chose Rapid Legal as their primary legal support vendor.
About Rapid Legal
Since 1994, Rapid Legal has been providing customers across the country with the easiest, fastest, and most reliable legal support services in the industry with a demonstrated track record of excellence and exceptional customer service. Rapid Legal has offices throughout California and a nationwide network of affiliates to handle your court filing, process serving & document retrieval requirements. For more information about Rapid Legal, please visit our website at http://www.rapidlegal.com.
Contact
David Nill
Rapid Legal, Inc.
909-664-9567
dsn(at)rapidlegal(dot)com
###