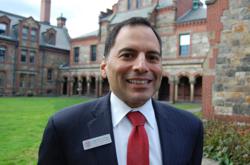 Cambridge, MA (PRWEB) October 26, 2011
Episcopal Divinity School is pleased to announce that Hugo De La Rosa has accepted the position of Vice President for Institutional Advancement.
"I am delighted with our choice–and that Hugo has chosen us, as well," said the Very Rev. Dr. Katherine Hancock Ragsdale, president and dean of EDS. "Brace yourselves for another vibrant and efficient fundraising year!"
"EDS is deeply engaged in producing better leaders, not only for the churches but for the wider community as well," said De La Rosa. "In such an important time of growth and change as an institution, I'm excited to be here, and I'm looking forward to working with Dean Ragsdale and the entire EDS community."
In his new role, De La Rosa will report to the President and Dean, the Very Rev. Dr. Katherine Ragsdale, and will serve as a member of the school's leadership team. He will partner with Ragsdale to cultivate and solicit major gifts, galvanize board and faculty support, promote philanthropy in support of EDS and its mission, and lead EDS' advancement team.
De La Rosa was most recently Vice President at Saint Elizabeth's Medical Center, where he reported to the medical center's chief executive officer. Previously, he has held development positions at Beth Israel Deaconess Medical Center, Boston University, and Phillips Academy.
The Episcopal Divinity School was founded in 1974 from a merger of Philadelphia Divinity School (founded 1857) and Episcopal Theological School (founded 1867). Both schools were noted for their progressive teaching, innovative pedagogy, as well as for being the first to welcome African Americans and women as full members of the community. The Episcopal Divinity School carries on this tradition today with its focus on interfaith issues and the practical aspects of providing ministerial leadership in this critical area. Located on an eight-acre campus just a few blocks from Harvard Yard, EDS is a member of the Boston Theological Institute, a consortium of nine eminent theological schools, seminaries, and departments of religion.
###