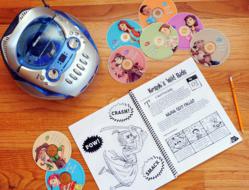 Our eight-year daughter asks me EVERY day when we pick her up from school, "Can we do Turnaround tonight?" She loves the characters and identifies closely with several of them.
Charlotte, NC (PRWEB) October 26, 2011
Informed Therapy Resources (ITR) is pleased to announce that they have sold over 1,000 Turnaround: Turning Fear Into Freedom programs all over the world!
ITR was formed in April of 2008 with the goal of creating a professional, child-friendly treatment program that would help anxious children overcome their fear. The co-creators, Dr. David Russ and Christopher McCarthy thought it would take them six-months to create and manufacture the program. Boy were they wrong! To do it right, they had to devote significant time and financial resources to the project. After two-years of intense labor, they presented Turnaround to the world in April of 2010. On a shoestring marketing budget, they got the word out and kits began to sell, slowly at first but increasing sales month after month. Testimonies began pouring in from parents thrilled with the results. Their anxious children, trapped in the bondage of fear and worry, were set free!
Turnaround is truly a unique program. There's nothing else like it available today. It is professionally developed by two licensed therapist with over 30-years of experience between them, and very child-friendly. The talents of 14 child actors and 6 adult actors were utilized to create a program that kids would want to listen to. The anxious children are entertained while be educated about what anxiety is and how to overcome it. Sales increase each month and the word spreads about this effective treatment method for anxious children.
Turnaround Audio Program includes:
Turnaround Program for kids (10 CDs)
Turnaround Journal, a 74 page workbook for kids
Chill Kit, relaxation guide for kids (1 CD)
Parent Guide, packed full of helpful information and techniques to help parents (2 CDs)
A bonus CD titled Med FAQs is also included. Med FAQs is an interview with nationally recognized Neuropsychiatrist, Dr. James Lee, offering a comprehensive discussion on the medications used to treat child anxiety is also included.
For additional information on the news that is the subject of this release or for a demo, contact us at info(at)myanxiouschild(dot)com or call ITR at (704) 208-4304 or (704) 293-2994 Please visit http://www.myanxiouschild.com to learn more about Turnaround: Turning Fear Into Freedom.
About Informed Therapy Resources (ITR):
Informed Therapy Resources (ITR) is dedicated to creating mental health treatment programs that are scientifically based, proven clinically effective, and professionally developed- using creative, eye-catching audio visual materials
David Russ, PhD, Psychologist
Dr. David A. Russ is President and a Licensed Practicing Psychologist of Carolinas Counseling Group in Charlotte, NC. He and his partners have built a busy practice with 11 clinicians. His doctoral dissertation was original research about a novel treatment for anxiety. He is co-author of the book, "More Than Me," published by NavPress. Dr. Russ has been an adjunct or visiting professor for four different graduate counseling programs. He has been continuously providing care for over 20 years. He has been happily married since 1983
Christopher T. McCarthy, MEd, Licensed Professional Counselor
Christopher McCarthy, MEd, is a Licensed Professional Counselor who specializes in treating child anxiety disorders, teen behavioral issues, parent-child relationship issues, and couple conflict. He co-owns Informed Therapy Resources and co-created Turnaround: Turning Fear Into Freedom™, a professional and creative audio program designed to help kids get free from anxiety and fear (myanxiouschild.com). He has 3 Masters Degrees and is finishing a PhD in Counselor Education and Supervision. He gives lectures on parenting and improving couple relationships. He has been in private practice since 1998 and is married with 3 children.
Contact:
Informed Therapy Resources (ITR)
e-mail: info(at)myanxiouschild(dot)com
http://www.myanxiouschild.com
###