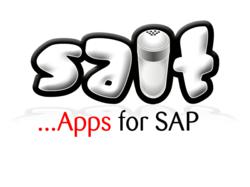 Extending the 3-for-Free permanent license offer until December 31 and adding 30 minutes of free training seemed a good way to celebrate a great first year.
Melbourne, Australia (PRWEB) October 26, 2011
Revelation Software Concepts Pty Ltd (RSC), creator of the widely used Rev-Trac® change control technology for use with SAP® solutions, today celebrated the anniversary of its Salt Apps™ utility suite for SAP software-based IT systems by extending a free lifetime license offer to customers who download and install the Salt Apps platform by December 31, 2011. The Salt 3-for-Free program includes a permanent license for all new users of the eight Salt utilities on up to three systems, plus 30 minutes of free training with Q&A session. The complementary offer is also available to all current Salt Apps customers.
The Salt Apps suite currently consists of eight useful and very fast mini-apps, driven by the Salt 1.7 platform running as a virtual machine (VM). Together, they provide focused, up-to-the-minute insight into the custom code base, objects in use or being developed by front-line project teams, and both the current state and historical changes in code, systems and developer projects.
The completion of the final Salt App video, on the Cold Case app, also coincides with the 1-year anniversary and demonstrates how to use Cold Case at the custom code object level to find and identify forgotten or abandoned changes. Both project managers and developers appreciate the improved code-level visibility Cold Case provides across the landscape since it makes clean-up much easier and prevents wasteful duplication of partly completed work or projects.
"All Salt Apps are about enhancing visibility into systems from the code level up to whole systems and landscapes, and the take-up by experienced ABAP™ developers and project managers has been staggering," noted David Gordon, CIO at RSC. "In fact, since Salt's introduction, the platform has been installed on hundreds of SAP systems in over fifty countries, and the active user community has made this first year exciting and fun for all of us. Extending the 3-for-Free permanent license offer until December 31 and adding 30 minutes of free training seemed a good way to celebrate a great first year."
The useful Salt platform mini-apps provide incredible visibility in custom objects and versions, lightning-fast ABAP™ code searches, comprehensive system comparisons, practical event monitoring for IT teams and managers, code version archiving, and other fast, at-hand capabilities for system administrators, project teams, developers and other stakeholders.
Complete information on the Salt Apps tool suite can be found at http://www.saltapps.com, where visitors may take advantage of the special First Year Anniversary offer until Dec. 31, 2011. The new Cold Case video and other app resource videos can be found at SaltApps YouTube Channel. Information on RSC, its products and services can be found at http://www.xrsc.com.
About Revelation Software Concepts
Revelation Software Concepts (RSC) specializes in change control management for use with SAP solutions, developing market-leading technology to reduce the risks and lower the costs of delivering changes into information systems. Since RSC was founded in 1997, some of the world's largest companies have come to rely upon its mature change control solutions. Its deep expertise and responsive support have made RSC the leading change-control specialist for SAP solution-based infrastructures around the globe. RSC is 100% SAP-focused and its flagship change control solution, Rev-Trac, is certified as powered by the SAP NetWeaver® technology platform. Rev-Trac supports change control for both ABAP™ and non-ABAP technologies, reflecting RSC's commitment to technologically innovative change control solutions that serve current market needs. For more information, visit http://www.xrsc.com.
Note to Editors— Rev-Trac is a registered trademark of Revelation Software Concepts Pty Ltd. SAP, ABAP, SAP NetWeaver and all SAP logos are the trademarks or registered trademarks of SAP AG in Germany and in several other countries. All other trademarks or registered trademarks are the property of their respective owners.
###