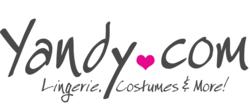 Phoenix, AZ (PRWEB) October 24, 2011
As Halloween quickly approaches, Yandy.com, online retailer of nearly 2,000 sexy Halloween costumes, noticed some definite trends this year. Yandy has put together a list of the top 5 selling costume categories for 2011:
#5 – Mouse Costumes
Pretty Minnie costumes aren't just for little girls anymore. Mouse costumes are making a big comeback this Halloween with sexier versions sprouting up like the Pin Up Mouse costume that features booty shorts, a cropped bandeau top and suspenders.
#4 – Flirty Flight Attendant Costumes
With help from the new show "Pan Am" Flight Attendant costumes are on the rise this year. The retro feel to these costumes add just that something extra.
#3 – Cop Cutie Costumes
While other Halloween costume staples like French Maids or Naughty Nurses are still common, Sexy Cop costumes have remained a front-runner this 2011 season. With variations like Sexy SWAT Officer costumes gaining in popularity, the cop cuties aren't going anywhere this Halloween.
#2 – Warrior Women Costumes
For the girl that wants to show her sexy side while proving she can take on the boys, the Warrior Women costumes reign high this Halloween. The Deluxe Viking costume, with its plush faux fur and Viking helmet, certainly lives up to its name. Others include officially licensed Mortal Kombat costumes and Spartan Queens.
#1 – Beautiful Bird Costumes
A relatively new idea for Halloween costumes, birds have made quite the splash in 2011. With a little help from Hollywood, costumes like the Yandy exclusive Sexy Black Swan costume and "The Girls Next Door" star, Bridget Marquardt's Sexy Peacock costume have been flying off of the Yandy shelves. Other costumes include the Hummingbird Hottie and Parrot Princess costumes.
While these are some of the most popular costume choices for 2011, these certainly don't cover the extensive collection of costumes Yandy carries. For the customer that is having difficulty determining what to be, Yandy offers product videos for nearly all of the costumes on the site so shopppers can see what the costume looks like, how it moves and how it fits before purchasing. Yandy also offers overnight delivery so costumes ordered this week will arrive in plenty of time for those ghoulish parties that are sure to be plentiful.
About Yandy.com
E-commerce is on the rise and Yandy.com is one of the largest online retailers of lingerie, sexy Halloween costumes, swimwear and clothing on the web. With hundreds of couples costumes, sexy mermaid costumes, deluxe Halloween costumes and many more, Yandy carries costumes for every type of shopper. Founded in 2003, Yandy boasts more than 6,500 products always in stock at easily affordable prices. Yandy ensures that every costumer will receive a safe, secure and private online shopping experience and is backed by COMODO online security and Google Checkout. Yandy is dedicated to customer service and only sells what is in stock which allows for quick, same day shipping. Offering the highest quality products at the most affordable prices in the market, Yandy has become a leader in ecommerce. Yandy works closely with all of the manufacturers they distribute for and hand select all of the items on the Web site to ensure customers have the largest and most diverse collection to choose from. In addition, the customer service team at Yandy is unrivaled. With attentive and helpful operators, should a question or problem arise, the customer service team at Yandy is always willing and able to assist. At Yandy, every customer can Be Sexy.
# # #