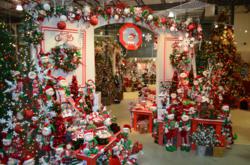 TreeTime and the Salvation Army want to make sure that everyone has a beautiful Christmas tree this year with a little help from those around us.
Lake Barrington, IL (PRWEB) October 25, 2011
Help make a difference in the life of someone in need this coming holiday season with a memorable gesture of good will and generosity. Be a part of this first-of-its-kind artificial Christmas tree donation program being sponsored by TreeTime Christmas Creations that will bring smiles to Chicago area families who would otherwise go without a Christmas tree this year.
All of October, people from near and far are welcome to bring their slightly used artificial Christmas trees to TreeTime. The collected trees will be donated to The Salvation Army for distribution to Chicago area families. In return for your charity, those who participate will receive 15 percent off any new Treetime artificial Christmas tree, to be redeemed by October 31, 2011. Those who schedule a pick-up can simply bring their receipt to TreeTime to redeem the discount.
"More than 5,000 Chicago area families regularly visit local Salvation Army retail stores for household items to make ends meet," said Envoy Dennis Earnhart of The Salvation Army Metropolitan Division. "During the holiday season, families are often looking for ways to bring joy into their home, and thanks to our partnership with TreeTime's artificial Christmas trees donation program, we will be able to share these Christmas trees with those in need."
"We have had amazing feedback the entire month and are very excited to share our love for Christmas and giving with the people of our community. Our philanthropy is a part of who we are as a company to help other Americans however we can," says Laurie Kane of TreeTime. "The Christmas tree donation program ends soon so we hope everyone comes to support The Salvation Army in the wonderful work they do and at the same time promote in the sharing of donated artificial Christmas trees for a truly Merry Christmas."
TreeTime Christmas Winter-Wonderland showroom and tree donation hours run through October 31st as follows: Monday, Wednesday and Friday 10:00am-6:00pm, Tuesday and Thursday 10:00am-8:00pm, and Saturday/Sunday 10:00am-5:00pm.
For more information, please call TreeTime at 847-527-8880 or visit them online at http://www.treetime.com.
###