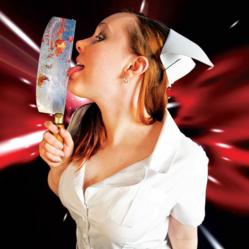 Who knew that a great bottled garlic product would form the basis for a crazy Halloween Donutrocity!
Bellevue, Washington (PRWEB) October 25, 2011
GarLic it! Caramelized Garlic Finish was chosen as the filling for a new line of Halloween-inspired donuts developed by Psycho Donuts. The recent Gold sofi™ Award-winning product will be combined with lemon, and filled into sugar-dusted treats as part of Psycho's line of "anti-vampire" donuts.
This marks the first time GarLic it! has been used as a premium food service ingredient. Normally sold as a retail product in 5.5 ounce jars, GarLic it! is announcing the availability of its quart size containers for food service, restaurant and institutional use.
Chief Psycho, Jordan Zweigoron, said, "At Psycho Donuts, we are always looking for crazy ways to change people's perception of donuts. Who knew that a great bottled garlic product would form the basis for a crazy Halloween Donutrocity!"
The garlic-infused donut will be named Vampire Repellant. The donut has a lemon-garlic filling, and is topped with vanilla icing and a set of vampire fangs fashioned from sugar. The donuts will launch the week before Halloween and will be available for purchase in both Psycho Donuts locations. The donuts may also re-appear in conjunction with the coming launch of Breaking Dawn, a movie based on the series of popular Twilight novels.
"We are delighted that our award winning garlic is part of such a unique creation. This shows that our spin on garlic is inspiring others to look at new and tasty ways to use garlic", said LLance Kezner, co-founder and Director of GarLic it!
More information about GarLic it! food service packs can be found on their website at http://www.Garlicit.com. Psycho Donuts' line of garlic filled donuts will be available through Halloween at their Campbell and San Jose locations, more information can be found at http://www.psychodonuts.com .
About GarLic it!
GarLic it! has created the first-ever garlic finish that helps home chefs and cooking enthusiasts bring a restaurant quality taste to their meals. GarLic It! is all natural, made in Washington state and comes in nine fresh flavors. GarLic it! is the winner of the coveted Gold sofi™ Outstanding New Product of the Year 2011 from the NASFT. GarLic it! is headquartered in Bellevue, Washington and is committed to creating gourmet garlic inspired products for home chefs through its partner network of gourmet product distributors, gift shops and grocery stores. For more information about GarLic it!, please contact http://www.GarLic it.com or 425-999-4894.
About Psycho Donuts
Psycho Donuts is the world's first and only light-hearted asylum for wayward do¬nuts with locations in Campbell and Downtown San Jose, California. Psycho Donuts has earned global acclaim for its creative flavors, and is often described as the world's most unusual donut shop. A crazy-fresh spin on the corner donut shop, Psycho Donuts customers are greeted by Psycho Nurses, who are extensively trained to dispense the perfect donut prescriptions. The Psycho experience includes padded walls, original street art, and a dizzying array of unconventional donut concoctions. Psycho Donuts has quickly become a Bay Area icon, and has been featured in Maxim Magazine, American Way Magazine, Bon Appétit Magazine, The Travel Channel, Fox News, Fox Business News, USA Today, Entrepreneur Magazine, Food Network Magazine, and more. For more information about Psycho Donuts, visit us online at http://www.psychodonuts.com or 408-533-1023.
Press Contact:
Lori Kezner
Public Relations Garlic It!
LoriPehaKezner(at)gmail(dot)com or 425-999-4894
###