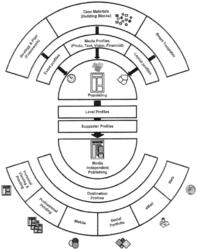 San Francisco, CA (PRWEB) October 25, 2011
Papilia Patents, Inc. and Osann IP Consulting today announced the auction of the Lot 139 patent portfolio for Personalized Automatic Publishing at the ICAP Patent Brokerage Fall 2011 Live IP Auction on November 17th in San Francisco.
This patent portfolio discloses techniques for electronically generated personalized communication. Typically, software applications provide common templates to save time when building documents. Common templates are a collection of placeholders for a specific type of data. However, changing the type of data, output format or the final document are not possible in conventional software applications that address the generation of these templates and the communications media that implement them. Therefore, techniques are required for automatically generating media independent personalized communications.
This portfolio provides a solution for automated and personalized communication between a company or organization and its customers, prospective customers, and constituents. Typically, implemented as a software solution, the disclosed techniques enable a user organization to automatically personalize professionally designed communications from a single content management database across virtually any media type, for example, email, direct mail, social networking, websites, blogs, or SMS messaging.
The described techniques dramatically improve the way organizations engage, develop, and retain their customers and constituents on an individual basis. Organizations can use this technology to engage and retain individual customers or donors without the need for complicated HTML coding, or resource-intensive software. A profile for each customer/donor with their defined interests and geographic region is created and then personalized messages - based on those interests and locale - are automatically sent to the customer. Therefore, thoughtful and individualized attention can be applied to small and large customers/donors alike, providing personalized content according to their wants and needs in order to engage and retain them for the long term.
Entitled "Personalized Automatic Publishing Extensible Layouts", US Provisional Application No. 60/511,606, was filed on Oct. 14, 2003. The Non-provisional Application issued in 2007 as US Patent No 7,185,280.
The Personalized Automatic Publishing IP lot should be of interest to software companies providing contact management solutions. To find out more about this unique IP portfolio, the IP Auction event, and the patents being offered, contact: Dean Becker at (561) 309-0011 or Dean.Becker(at)us(dot)icap(dot)com.
About Papilia Patents, Inc.:
Papilia Patents, Inc. is a spin-out holding company chartered with managing the sale of the IP assets of Papilia Inc. (a closed start-up) and distribution of returns to preferred shareholders.
About Osann IP Consulting:
Robert Osann is an Intellectual Property consultant, inventor, and veteran of 5 VC-backed startups. Since 2007, he has sold 6 patents and 9 applications to 3 different buyers, including a Smart Phone patent portfolio at the Ocean Tomo Fall IP auction in 2007. Visit http://www.osann.com .
About ICAP Patent Brokerage:
ICAP Patent Brokerage is a division of ICAP plc and the world's largest intellectual property brokerage and patent auction firm. Visit http://icappatentbrokerage.com/forsale .
Media Contacts:
Luisa Sepulveda
ICAP Patent Brokerage,
312-327-8162
Luisa.Sepulveda(at)us(dot)icap(dot)com
###