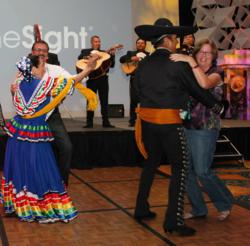 Event photography is important to the success of any group wanting to retain members.
San Antonio, TX (PRWEB) October 25, 2011
Event photography by Professional Images was a hit last night at the Marriott Rivercenter in San Antonio, TX. Joseph Rodriguez, owner created photographic images that showed attendees having a great time and enjoying a beautiful evening. Meeting planners, convention mangers, catering managers and destination companies look for experience when hiring an event photographer. Professional Images photography listens and understands the needs of the client to deliver the very best in professional photography.
Corporate groups need more than just a general session, networking mixer or a round table discussion to create valuable connections. When companies get together to talk about the latest news or to discuss a product launch it can take all day which is exhausting not just to the body but to the mind and with a team of photographers, Professional Images can be in 3 cities on the same night.
Events at meetings help guests unwind and relax. Catching up with a fellow employee or a customer is important to build strong business relationships, goodwill and credibility. Event photography, when used effectively captures the energy of the guests. Professional Images Photography captures more than just the moment for the client. event photography is different from convention photography and Professional Images photography years of experience knows that getting the attendee smiling, laughing, enjoying themselves is important and needed by the client. These images are used to retain members, recruit new members and newsletters, slides shows meeting guides and other media.
Professional Images Photography commitment to bring something different to the arena of convention and corporate photography and is becoming the benchmark for meeting planners in the corporate, convention, trade-show industry.
About Us:
Professional Images Photography has been providing Convention, Corporate, Event and Trade-show Photography since 1987. Based in San Antonio, TX with offices in Washington, D.C., New York, NY, Houston, TX and coming soon, Las Vegas, NV.
###