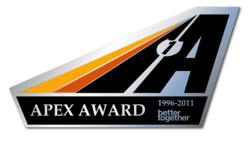 Chicago, Illinois (PRWEB) October 25, 2011
Allied Van Lines, Inc., one of the world's largest moving companies and a subsidiary of SIRVA, Inc., announced that eleven Allied agents received its APEX quality award at its 2011 National Convention held in Myrtle Beach, South Carolina. The APEX quality award is awarded to those agents who have achieved the highest quality rating of "Excellent" for customer focus performance each quarter for over fifteen consecutive years, as measured by a third party vendor.
The agents awarded include Atlas Transfer & Storage Co., Inc. of Poway, CA, Bayshore Transportation System, Inc. of Newark, DE, Beverly Hills Transfer & Storage Co., Inc. of Gardena, CA, Blanchette Moving & Storage Co. of Lewiston, ME, Mathis Moving & Storage Co. of Newark, OH, McNaughton Brothers, Inc. of Indiana, PA, Mills Van Lines, Inc. of Strongsville, OH, Piepho Moving & Storage, Inc. of Onalaska, WI, Schick Moving & Storage Co. of Tustin, CA, Skaleski Moving & Storage, Inc. of Green Bay, WI, and Spaeth Transfer, Inc. of Bremerton, WA.
"Regardless of size or distance, customers every year entrust their belongings to one of our more than 400 Allied agents nationwide," said Bill Lyon, Vice President and General Manager of Allied Van Lines. "These eleven agents are being recognized for consistently being the best and we are proud to have them as part of the Allied family."
About Allied Van Lines
Established in 1928, Allied Van Lines, with more than 400 agent locations in North America, is an experienced leader in household goods moving and specialized transportation services. Allied is one of the world's largest moving companies and one of the established global brands of SIRVA, Inc., a leader in providing relocation services to corporations, consumers and governments around the world. For more information about Allied Van Lines, visit http://www.allied.com. Allied Van Lines, Inc., U.S. DOT No. 076235.
About SIRVA, Inc.
SIRVA, Inc. is a leading provider of relocation solutions to a well-established and diverse customer base around the world. The company handles all aspects of relocation, including home purchase and home sale services, household goods moving, mortgage services, and home closing and settlement services. SIRVA conducts more than 300,000 relocations per year, transferring corporate and government employees in addition to individual consumers. SIRVA's well-recognized brands include Allied, Allied International, Allied Pickfords, Allied Special Products, DJK Residential, Global, northAmerican, northAmerican International, SIRVA Mortgage, SIRVA Move Management, SIRVA Relocation and SIRVA Settlement. More information about SIRVA can be found on the company's Web site at http://www.sirva.com.
###