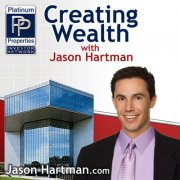 Irvine CA (PRWEB) October 25, 2011
Jason Hartman, host of The Creating Wealth Show, sits down with Alaskan congressman Dr. Nick Begich to discuss the economic climate of the United States during the 221st episode of Hartman's popular podcast.
In this interview with Dr. Begich, Hartman discusses reasons for hope with the economic situation in uncertain times. The interview begins with Dr. Begich explaining that looking at the balance sheet rather than the profit and loss statement can help get a more accurate picture of the wealth of the United States. He goes on to explain that natural resources provide economic shifts that can create a more balanced market in the United States. He explains that by not using our natural resources, we are making our country artificially poor. By avoiding the political correctness and environmental codes that have been weighing our possible economic improvement, the United States would be able to create its own resources, rather than relying on the raw goods and natural resources of third world countries.
Hartman compares countries to sports teams and while we used to be loyal to our own team or country, with inexpensive and more convenient options, we have all but deserted our home country and we are making wealthy nations of countries with affordable labor and immense amounts of natural resources.
Both Dr. Begich and Hartman explain that the natural resources west of the Mississippi River are largely untapped resources and by taking advantage of these large opportunities, our country could turn the optimistic assets on the balance sheet, into income on the profit and loss statement. As our country tries to dig out of this recession, it is important to recognize the vast resources that are owned, and optimize these resources in order to start reducing the balance of the national debt, while ensuring that we do not completely deplete our natural resources.
About The Creating Wealth Show
The Creating Wealth Show was created for those interested in learning more about real estate investing, financial and entrepreneurship strategies. This show has been in production for over four years and features many cutting-edge topics and guests such as Harry Dent, Robert Kiyosaki, Michael Gerber, Ellen Brown, Yanik Silver, Shane Gibson, John Assaraf, Peter Schiff, Lawrence Yun and many more. For information, call 714-820-4200 or visit The Creating Wealth Show online.
###