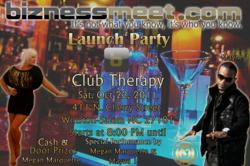 Build, master and expand connections with this cutting-edge social network today!
Winston Salem, NC (PRWEB) October 25, 2011
The launch party for Biznessmeet.com was greatly anticipated and there was quite a turnout of current members, prospective new members, family, friends and lovers of good music.
Biznessmeet .com commemorated the launch of their new website with a celebration in Winston Salem, NC that included food, networking and a variety of door prizes. In addition, live entertainment was provided by the gifted singer, Megan Marquette and rising hip hop artist Mayne1.
Biznessmeet.com is a social and business networking website that brings together businesses and individuals to share ideas, discuss important topics, and benefit from increased exposure. Job seekers can upload résumés and connect with potential employers and professionals from all walks of life, therefore increasing their broader business network.
Founders Rosalyn Wheless-Wilson and Mitch Brown are the visionaries behind Biznessmeet.com. This dynamic pair created the site to fill a void in business social networking. "This site satisfies all walks of life and directly targets individuals as well as businesses wanting to be movers and shakers and dominate their industry."
Biznessmeet.com, as expressed by Wilson and Brown, will be the premier business social networking site of all time. More exciting community events are planned for the near future and the network will be expanded with necessary and fun features as the site grows.
Biznessmeet.com is free to join at http://Biznessmeet.com. Build, master and expand connections with this cutting-edge social network today! Remember it's not always what you know, but who you know.
Like us on Facebook at http://www.facebook.com/biznessmeet
Follow us on twitter http://twitter.com/#!/Biznessmeet
###