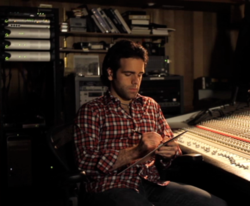 The purpose of the video is to display sentiments of the hardships some of the troops go through and to raise awareness of their sacrifices.
Manhattan, New York (PRWEB) October 26, 2011
Manhattan musician, Anthony Tedesco, of the Anthony Tedesco Band, is pleased to announce the release of a new album, Exordium on October 25, 2011. The first single, Long Until Gone also releases the same day. Proceeds from the sale of both Exordium and the single Long Until Gone will go to charity. Specifically, Tedesco has chosen Treat Any Soldier, an organization devoted to helping American soldiers stationed in Iraq and Afghanistan.
Treat Any Soldier is a non-profit organization founded by Sue Horn, a former military policewoman and wife of a military serviceman. After seeing her own son struggle while stationed in Afghanistan, lacking simple hygiene supplies appropriate for the field, not to mention the creature comforts of home, Sue began Treat Any Soldier. The charity serves as a way to let Americans back home show support for troops stationed abroad.
Pre-designed care packages include favorite snacks, movies, much-needed hygiene supplies, as well as nutrition and fitness supplies. Contributors can choose which kit they wish to purchase when they make a donation. Kits are designed for female or male service members, as well as entertainment, fitness or goodie kits.
Each care package is designed to provide soldiers in the field with items they cannot otherwise get. Not only do kits contain necessities, but also treats and entertainment items to help keep moral up or provide a distraction from the fighting and other stresses of wartime service. Since 2003, Treat Any Soldier has delivered kits of kindness to thousands of soldiers. Today, not only does Treat Any Soldier send care packages to soldiers stationed in Iraq and Afghanistan, but also contributes to wounded soldier charities and initiatives here in the United States.
Growing up, Anthony Tedesco understood what American soldiers sacrificed in service to their country. Both his grandfather and an uncle served honorably during war time. Unfortunately, his uncle paid the ultimate price, eventually succumbing to the effects of hazardous chemical exposure during his tour in Vietnam. Personal loss such as this inspired Tedesco to donate his considerable talents and future proceeds of Exordium to Treat Any Soldier. In his own words:
"The video for Long Until Gone was shot completely in Long Island. The purpose of the video is to display sentiments of the hardships some of the troops go through and to raise awareness of the sacrifices our troops make in general. The characters involve a soldier who was badly wounded in war, a home nurse who tends to him, a mother and daughter who wait for their husband/father to come home from war, and the soldier who comes home to his family."
"Much of my family has been in the service. My grandfather was in the Air Force during World War II, and my uncle served in the Vietnam War. Both recently passed away (it is believed that my uncle passed away from long-term effects of "Agent Orange" that was released as a chemical weapon on the troops in the Vietnam War)."
"I've had a love for music since I was very small and have been playing music since the young age of 8. Through this video I hope to further my career while helping to support those who keep our country safe so that we have a place to live, and thrive and do what we love."
For additional information, contact Anthony Tedesco. The music video for Long Until Gone, written and directed by Hezues R', is available through the Youtube: YoutubeLink
Anthony's album, Exordium, is availabe via iTunes.
###