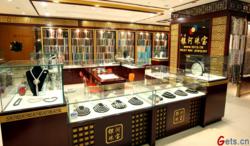 The fourth quarter is the most important part of the whole year, that's why we decided to offer the highest discount.
(PRWEB) October 25, 2011
According to Ivy Cao, the General Manager of Milky Way Jewelry, the deal has refreshed their records of promotions. During the past years, the highest discount Milky Way jewelry offered was 10%.
"The fourth quarter is the most important part of the whole year, that's why we decided to offer the highest discount," Ivy said, when asked about the details of this promotion. "Our turnover in the fourth quarter takes over nearly 2/5 of our annual turnover. We attach great importance to this promotion and we will steadily improve our service quality in orders processing, logistics, after-sale services and so on. Customer satisfaction is the key factor to success; that's the first and last thing we will hold on to."
As the leading beads and jewelry making wholesaler, Milky Way Jewelry is also the largest wholesaler which owns a wealth of resources in China. Despite its own design studio, Milky Way Jewelry has already built strategic partnerships with several trustworthy factories; therefore, Gets.cn is the one stop shop for Jewelry wholesale and Jewelry supplies with the most competitive prices, the most abundant resources as well as the highest reputation.
What's more, the MOQ at Gets.cn is only 1/5-1/2 as that at similar online suppliers, which brings a lot of confidence to Ivy.
For new customers who take a wait-and-see attitude on products at Gets.cn, Ivy recommend 3 categories for them - Hair Accessories for Women, Magnetic Hematite Beads and Wholesale Stainless Steel Jewelry. "These are the hottest products at Gets.cn and according to our statistics, 67.7% of our regular customers will buy them again."
The battle in fashion industry is always invisible. Only suppliers who react rapidly toward the market trends could seize the chance to win. How will global customers take this deal? Will Milky Way Jewelry accomplish its goal of "making new customers regular"? The answers will be revealed soon.
More detailed information:

Fully paid from 16th Oct 2011 to 10th Nov 2011 can be offered.
Only reach min.order, 15% discount will be offered.
The single order discount would not be effective.
Less than min.order, unit price will be 20% higher than original price.
For more information, please visit http://www.gets.cn/beads-promotion.php
About Milky Way Jewelry
Milky Way Jewelry is a professional manufacturer specialized in producing beads and jewelry findings, such as glass beads, pearl beads, lampwork beads, rhinestone jewelry, gemstone and European jewelry. Founded in 2004, it has emerged as one of the largest jewelry accessories suppliers in the field. In possession of over 400,000 different styles and colors of jewelry accessories, the company is able to serve worldwide customers from more than 150 countries.
###