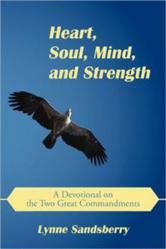 Taipei, Taiwan (PRWEB) October 26, 2011
Psalms 145:18 states "The Lord is near to all who call on him, to all who call on him in truth." Prayer plays a crucial part in the lives of Christians everywhere. To help individuals pray and reflect on God comes the new devotional, "Heart, Soul, Mind, and Strength: A Devotional on the Two Great Commandments" (published by WestBow Press) by Lynne Sandsberry.
"Heart, Soul, Mind, and Strength" is a devotional built on a single theme: responding in obedience to the Bible's two great commandments, to "love the Lord your God with all your heart, and with all your soul, and with all your mind, and with all your strength," and to "love your neighbor as yourself."
"It's a devotional for God, rather than for us," says Sandsberry.
Each daily reading addresses the theme of loving God fully – the issues involved and the practical steps to be taken. They describe how this love can be, and has been, put into practice, complete with illustrations from scripture and from modern life.
"Heart, Soul, Mind, and Strength" was written for a church-going audience with a general knowledge of the Bible and its famous events, but doesn't assume readers are familiar with particular bible verses. Fresh metaphors and fresh phraseology illustrate scriptural principles, and the book also contains discussion questions.
About the Author
Lynne Sandsberry calls herself a "mere Christian," from the C.S. Lewis classic Mere Christianity. She received her master's degree in English as a Second Language from the University of Hawaii and has taught at universities in the United States and in Taiwan. She currently works for the Language Training and Testing Center in Taipei.
WestBow Press is a strategic self-publishing alliance of Thomas Nelson, the world's premier Christian publisher, and Author Solutions, Inc. (ASI)—the world leader in the fastest-growing segment of publishing. Through this partnership, authors benefit from the rich publishing heritage of Thomas Nelson and the speed-to-market advantages of the ASI self-publishing model. Titles published through WestBow Press will be evaluated for sales potential and considered for publication under the Thomas Nelson imprint. For more information, or to start publishing today, visit westbowpress.com or call 866-928-1240.
###