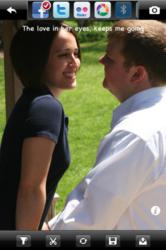 (PRWEB) October 27, 2011
Pro-Share has quickly become a phenomenon in the online media world. The application makes uploading photos and videos to social networking sites a breeze, with its incredibly fast, user friendly technology for mobile devices. Now, the creators of Pro-Share are proud to announce that it is even better! They have updated it to be fully compatible with iOS5, the most recent version of Apple's mobile operating system.
"The team at iapps24 would like to thank Apple's amazing team for approving our app just five hours after it was submitted. We take excellent customer service seriously here, and it is always great to encounter another company that has integrity in their products and customer relations," commented a spokesperson for iapps24.
The recent update to Pro-Share is just one of the many exciting things going on at iapps24 right now. Founded in September of 2010, the company was built by a team of developers who shared the dream of creating a service that could bring customer's ideas to life through quality mobile applications.
In a world ran by technology, cell phones are always close at hand these days. Businesses are beginning to realize that this is an excellent way to target customers, and to be available to their clients. iapps24 provides a budget friendly, consultation and development service to make business owner's great ideas for the next app a reality. Designers are available to provide a free consultation to anybody who wants more information about developing a mobile app, or who has a great idea for an app and wants to get started with the process.
Knowledgeable consultants can help clients plan out their application by working with them to clearly define the idea, while keeping in mind the capabilities of the selected mobile device or platform. The professionals at iapps24 make it easy for anybody, whether they have a background in computer and mobile technology or not, to understand and utilize their applications. At iapps24, they strongly believe in doing things right the first time, but each client receives 3 months of free, bug fixing services, simply for their own peace of mind.
About iapps24:
Co-Founded in September 2010 by Jay Namboor of Grapnel Mobile Inc., iapps24 is a team of developers experienced in the IT industry and focused on creating custom mobile applications for businesses of all sizes. Much of its experience working with various Fortune 500 companies on multiple projects provides iapps24 with a unique view of the development process. iapps24 is committed to offering exceptional service that is customer oriented, while also supplying a well-documented and clearly developed application.
For more information visit their website at iapps24.
Follow Pro-Share on Facebook or Twitter to stay informed about monthly promotions that users won't want to miss out on.
###