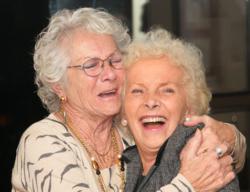 Although Seniors may have not grown up with technology...they are willing to embrace it to maintain their independence.
Pittsburgh, PA (PRWEB) October 26, 2011
Research shows that falls are the leading cause of injury deaths in older adults, and they are the most common cause of nonfatal injuries and hospitalizations for trauma.(ii) Seniors who live alone are most at risk for increased hospital stays due to fall related injuries. Many seniors and their families are relying on Personal Emergency Response Systems (or medical alarms) for help in monitoring the condition of elderly loved ones. Recent claims that, "in four out of five fall incidents the senior doesn't push the button, either because they are too stunned or physically unable" is flawed. The most common reason for why seniors fail to press their buttons (or even wear them at all) is because some medical alarm providers fail to instruct their users on how the equipment works and fail to provide ongoing education and testing.
A lack of customer service and ongoing education is the cause of unanswered emergencies. If the user does not fully understand the benefits of a medical alarm and does not have ongoing training on how to use the system; he or she may not be able to take advantage of it in the event of an emergency. Fortunately, there are some medical alarm providers that take the time to truly educate their customers on the importance of wearing and using their medical alarm pendant. Automated Security Alert, Inc. (ASA) has been providing a higher level of customer service to their users for over 20 years. ASA's service technicians install the medical alarm in the user's home, and demonstrate the equipment to the user and their family members. Additionally, the service technicians take time to fully educate the user on how to fully benefit from the medical alarm service.
The high level of service however does not end after the installation is completed. Every month one of Automated Security Alert's Life Safety Operators calls the user for ongoing education and testing. The operator asks if they are wearing their button and reminds them to wear it at all times; the operator then has the user press the medical alarm pendant to perform a manual test. Additionally, ongoing service and maintenance in the home is often required to ensure the operation of the system. This type of service and education is causing more seniors to embrace technology and truly benefit from the rewards of it.
Falls among the elderly occur frequently, 1 in 3 adults over the age of 65 fall each year, and advances in the industry have led to fall detection technology that uses accelerometers, motion, tilt, and impact sensors.² Fall detection systems may seem like a breakthrough in the medical alarm industry, but in reality, traditional medical alarm systems are advancing much faster. "At this point fall detection is still an emerging technology and everyday thousands of people get help by pressing their medical alarm pendants for all types of emergencies; whether they are sick, fall, lonely, have a fire, need the police, or a visitor gets hurt or becomes ill," says Jeff Pigott, Director of Products and Services at Automated Security Alert, Inc. The medical alarm pendants are getting smarter; some are capable of two-way voice communication between the user and a Life Safety Operator. Paired with the right customer support, pendant devices are very effective in keeping loved ones safe and independent.
It is also critical to offer two-way communication to reassure the user in an emergency situation that help is on the way. This is particularly important with fall detectors because the technology often detects false positives, and without two-way voice it would result in an unnecessary ambulance visit. ASA does offer a fall detection device, they realize that the technology has not yet been developed enough to be completely effective. They offer two-way communication on all products and take the time to assess each customer on an individual basis to recommend a medical alarm that will best fit their lifestyle. Other fall detection systems do not provide two-way voice communication, are bulky and are to be worn on a chest strap or belt, or have no service to support the system. Most simply, offering solely a product without service is not sufficient and seniors will not embrace it.
For more information about medical alarm systems, contact Automated Security Alert, Inc at 1-800-338-7114, or visit http://www.automatedsecurityalert.com.
(i)Automated Security Alert research study. April 4, 2011 "Seniors embracing technology"
(ii)Centers for Disease Control and Prevention, National Center for Injury Prevention and Control, Division of unintentional Injury Prevention. December 8, 2010. "Falls Among Older Adults: An Overview." http://www.cdc.gov/HomeandRecreationalSafety/Falls/adultfalls.html
###