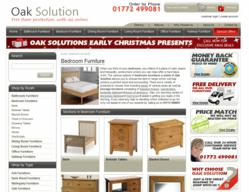 When you think of your bedroom, you reflect of a place of calm, peace and tranquillity, somewhere you can relax after a hard day's work
(PRWEB UK) 27 October 2011
Oak Solution, a popular online furniture retailer, has reported that the most popular type of bedroom furniture sold in 2011 on its website, was solid oak bedroom furniture.
Miles Smith, co-founder of Oak Solution stated:
"When you think of your bedroom, you reflect of a place of calm, peace and tranquillity, somewhere you can relax after a hard day's work. It is also the first room you wake up in and the last room you see before you sleep, making it one of the most important rooms for influencing your mood.
In a recession, the most invaluable aspect of your life is to increase your own quality of living, your happiness and your mood - Hence why people seem to be investing more and more in quality bedroom furniture, particularly solid oak bedroom furniture."
The reason for why solid oak bedroom furniture has become the most popular is believed to be due to the fact that it is one of the most prestigious wood types, offering the highest grandeur whilst providing warmth, strength and reliability. This makes people feel better about themselves whilst increasing the quality of their home.
Solid oak bedroom furniture is one of the most expensive and represents an investment in quality furnishings that will hold its value, especially when wood reserves become scarce. Most of all, the success attributed to solid oak bedroom furniture has to be its natural beauty, colour and texture, that only solid oak bedroom furniture can provide.
Oak Solution have always stressed the importance of having a neat bedroom by keeping clothes and clutter stored away tidily and essentially having a bed that will give you a comfortable night's sleep. This message has certainly been echoed by many of their recent customers, with demand for solid oak bedroom furniture increasing with the majority choosing to modernise their own bedrooms and then moving onto children's and guest bedrooms.
Apart from solid oak bedroom furniture, there are also various other options of bedroom furniture available at Oak Solution, which allows customers to choose the item or range which will help them achieve a perfect mood and surrounding. There are a variety of products to choose from, including: beds of various sizes as well as storage furniture consisting of blanket boxes, wardrobes, bedside tables and chest of drawers. Also, Oak Solution's stunning variety of dressing tables and mirrors will assist people in getting ready in the morning.
Nadeem Rajani, Director of Oak Solution said:
"It is very difficult to advise on the range or style to recommend as this is all down to personal preference, and the grandeur of solid oak bedroom furniture is not to everyone's taste. Some may just want to mix and match with one bedroom having a solid oak modern contemporary look and another bedroom having a more traditional rustic look."
One alternative to solid oak bedroom furniture that has proved extremely popular, is painted bedroom furniture - with high sales being acknowledged in Oak Solution's Kensington and Lindale Painted ranges.
Customer feedback has always been positive when shopping with Oak Solution. Not only do they offer an excellent service but also competitive pricing with great deals to be had when purchasing multiple items.
Oak Solution offer a free delivery service, a price match guarantee, plus they offer a free gift of quality floor protectors with every order.
# # #