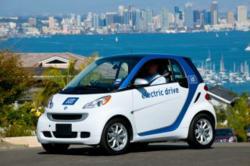 The growth many of the businesses showcasing their products at Green Streets are experiencing in this economy is testament to the market opportunities clean transportation alternatives present for San Diego
(PRWEB) October 25, 2011
San Diego, CA: MOVE San Diego is working with a diverse array of public agencies, transportation companies, policymakers, developers and environmental non-profits to help citizens County-wide get up to speed on the job-creating technologies defining San Diego's clean transportation future during its inaugural Celebrating Green Streets Expo, slated for October 27.
Free and open to the public, the Expo takes place from 3 pm to 6 pm along the tarmac leading up to the newly LEED Gold-certified Port Pavilion on Broadway Pier, where MOVE San Diego's 2nd Annual Celebrating Green Streets Awards Program & Fundraiser will be held later that night.
Green Streets offers San Diegans a sneak peek at everything from car2go's innovative electric car-sharing service – the first all-electric car-sharing program in North America, which will make electric drive vehicles available to San Diego residents twenty-four hours a day, seven days a week -- to bi-pedal transportation options that are helping drive the growth of clean transportation solutions in the greater San Diego area.
"The current economic impact of the San Diego region's clean transportation sector is over $311 million annually," notes MOVE San Diego Executive Director Elyse Lowe. "The growth many of the small businesses showcasing their products at Green Streets are experiencing in this economy is testament to the market opportunities clean transportation alternatives present for San Diego – now and in the future," she said.
Green Streets visitors can test their fitness metal on ElliptiGO, the world's first elliptical bicycle, or zip around on Fly Rides' electric scooters, a growing transportation choice for San Diegans and tourists alike. Join a flash mob in helping pedal-power one of the West's first 16-person Dutch-designed social bicycles or see why more and more, people from 16 to 96 are finding their way to work or play via bikes like the stylish European-influenced Electra bicycle. All these vehicles are available for test rides as people groove to the lively sounds of folk-bluegrass-soul artists Trails and Rails (3:30 to 5:30 pm).
"We found the newly LEED Gold-certified Port Pavilion particularly fitting for this event in that it is central to the trolley, the Coaster, Amtrak, several bus routes, pedestrian walkways, bicycle paths -- and the ferry ---nearly the full gamut of current transportation options," said Lowe. "These, along with the nation's first, all-electric car2go downtown car-sharing service -- and SDG&E's incentives for plug-in electric vehicles -- show how fast, easy and affordable it is to find healthy transportation alternatives that make good economic sense."
SDG&E's energy experts will be showcasing a plug-in hybrid Prius, Nissan LEAF and Chevy Volt interacting with new plug-in hybrid charging stations for fleet and personal rides. EV aficionados should stop by the SDG&E booth to learn how homeowners, business owners and multi-family property owners can enjoy money-saving EV time-of-use (TOU) utility rates by charging their electric vehicles during designated times. Visitors can add to their EV IQ by speaking with Real Goods Solar about EV-PV solutions.
San Diego is one of only six cities in the world with an arrangement with Google Maps that allows MTS to provide real-time arrival time data for users' mobile devices. "Our aim is to make catching a ride on public transportation faster, easier and more reliable than ever," noted MTS Chair Harry Mathis. "And with our roomy new low-floor trolleys and bicycle-friendly CNG buses, accessing public transportation is easier for citizens of all ages." Participate in MTS' Ready. Text. Go! texting contest and win free MTS bus and trolley rides for a year.
Celebrate Green Streets on the tarmac at downtown San Diego's Broadway Pier: 1000 North Harbor Drive. Those interested in taking public transportation to the event from the north or south can take the blue line and get off at the Santa Fe Depot. Several bus routes stop within a block or two of the pier. The 810, 820, 850, 860, 923, and 992 stop only one block away from the Broadway Pier. Both the 2 and 210 stop two blocks to the West at Broadway & Columbia.
Be among the first 100 to visit and get a chance to win a year's free public transit from MTS. Info: http://www.movesd.org. 619-702-4266.
Note: Following the Expo, join MOVE San Diego, San Diego City Councilmember Todd Gloria and a veritable who's who among San Diego's regional clean transportation leadership in honoring MTS Chairman Harry Mathis for his decades of civic leadership during the 2nd Annual Celebrating Green Streets Awards Program and Fundraiser.
The event is from 5 pm to 8 pm inside the Port Pavilion at the Broadway Pier. Tickets for the evening's cocktail reception can be reserved by clicking here until October 26. They will also be available at the Celebrating Green Streets Expo on October 27.
Join MOVE San Diego the evening of October 27 in also honoring:

San Diego City Council President Tony Young, winner of this year's "Walk the Talk" Award;
MTS for its Ready. Text. Go! real-time arrival time via text program, winner of the 2011 Public Innovator Award;
The Unified Port of San Diego – 2011's Agency Innovator -- for its sustainable Green Port Program;
SDG&E's Clean Transportation Program, Corporate Innovator of the Year.
Featuring provocative transportation alternatives, raffle prizes and substantive dialogue about San Diego's sustainable transportation future, Green Streets is 501(c)3 MOVE San Diego's annual fundraiser. Raffle prizes include a year's MTS pass, an Electra ladies' Butterfly 3-speed, a Diamondback mountain bike, Sammy's Wood-fired pizza for a year and more than three dozen additional quality prizes.
Celebrating Green Streets is made possible by SDG&E, MTS, Daimler's car2go, The Contorer Foundation, Veolia Transportation, The Unified Port of San Diego, The Historic Class 1 Streetcar Project, the Jacobs Family Foundation, The Equinox Center, Baldwin & Sons, Sudberry Properties, Real Goods Solar, Dudek, Jason & Sarah Kruer-Jager & the Monarch Group, Green Flash Brewing Company, AECOM, Affirmed Housing, Wells Fargo, Heritage Security and Move San Diego Chair Stephen Haase.
About MOVE San Diego: MOVE San Diego is a 501(c)3 non-profit that works with public agencies, businesses, environmentalists, developers and related transportation experts to help prioritize, fund and implement healthy, convenient sustainable transportation and land-use solutions that support a vibrant network of clean transportation options including walking, bicycling, clean vehicle use and reliable public transit options for the greater San Diego community. For more information, go to http://www.movesandiego.org. Follow MOVE San Diego on Facebook -- and on Twitter @MoveSD
###