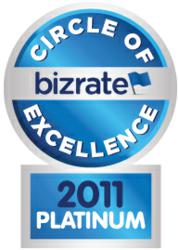 St. Louis, MO (PRWEB) October 26, 2011
4 All Memory is proud to announce that Bizrate has selected their company to be awarded the 2011 Bizrate Circle of Excellence Platinum award. Only 27 total retailers were selected to receive this honor, representing a mere 0.5% of all of Bizrate's North American retailers.
To be eligible to receive this award, the requirements were much higher than in 2010. Customer satisfaction ratings were reported higher this year, so the 2011 winners received at least a 9.0 in satisfaction scores on the seven key customer satisfaction indicators. 4 All Memory prides itself on top notch customer service which translates into fantastic customer feedback.
4 All Memory is best known for having the largest selection of computer memory from the oldest to the newest technology. In fact, they have upgrades available for over 110,000 different computer models (the most of any memory company). Customers can run a self-check directly on their computer to find the exact computer memory they need so there is no question that they are getting the correct product. As well as offering a 100% compatibility guarantee, 4 All Memory also offers a lifetime warranty. If for any reason a former customer's computer memory fails, 4 All Memory will replace it.
About 4 All Memory
4 All Memory is a St. Louis-based computer accessories online retailer. In addition to computer memory, you can also find memory for digital cameras, printers, and MP3 players, as well as hard drives and other upgrades. For more information, please visit http://www.4allmemory.com.
###