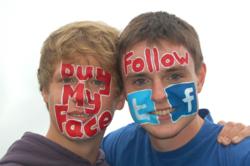 Our idea is online, and that's where the real advertising strength is.
London, UK (PRWEB) October 25, 2011 (PRWEB UK) 25 October 2011
Faced with the most difficult graduate job market in decades, two recent Cambridge graduates are taking a less conventional approach to earning a living. Armed only with £50,000 ($80,000) of student debt and a firm grasp of the principles of viral advertising, Ross Harper, 21, and Ed Moyse, 22, are attempting to move out of the red and into the black by transforming themselves into walking advertisements.
Ross and Ed began their project on 1st October this year and will continue, without a day's break until the end of September 2012. At http://www.BuyMyFace.com, companies can purchase days of advertising and create their very own "face-ad", which on the date purchased, will be painted onto the faces of Ross and Ed, and uploaded to the homepage. Now, only one month into their new business their inbox is jammed with companies wanting to advertise with them.
"The novelty is that these logos are on our faces. The reality is that more and more people are visiting our website, laughing at what we look like, and following links to company websites. The hope is that for the next year, people will incorporate BuyMyFace.com into their morning regime of checking emails, facebook and twitter" (Ross Harper).
BuyMyFace.com features an online calendar where all 366 days of the year can be viewed along with logos and company website links. Typically receiving around 4000 hits a day, and having made £3,500 ($5,600) in their first ten days, BuyMyFace.com demonstrates how quickly viral marketing can take off.
The two graduates have featured in a selection of national newspapers, radio and television shows, attracting interest from such big names as Paddy Power and Russell Howard's Good News. As their story continues to spread, companies featuring on BuyMyFace.com can expect increased website traffic and brand awareness.
"A lot of people are worried about the current job climate and are therefore really supportive of new ways to get around it. Apart from a few surly exceptions, everyone we've told about Buy My Face has laughed and said, 'how much?' Now, with things actually taking off, and us making a bit more money, our friends and family not only think it's a cool idea, but also a viable business plan" (Ed Moyse).
In addition to posting pictures of their logo-emblazoned faces all over the Internet, Ross and Ed are blogging daily about life as a walking advert, keeping the public up to date with their latest escapades. Whilst BuyMyFace.com is an online concept, the duo encourage companies to send them on fun, exciting trips making their story even better to follow. Since spending their first day on the job at a theme park, the pair have been invited to go skydiving and will be attending the Oxbridge Varsity ski trip this December.
"Our idea is online, and that's where the real advertising strength is, but if companies want to send us somewhere fun… we're game!" (Ross Harper).
With BuyMyFace.com, there are absolutely no days off. Ross and Ed are going to be spending every hour of every day together for the next year, and that includes holidays like Christmas. However, in keeping with the festive spirit, the two best friends are auctioning off Christmas day for charity, opening up an online vote to decide where the proceeds will go.
###