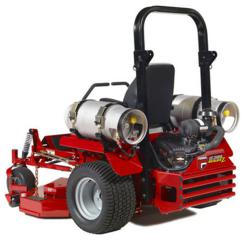 "Propane is a low-carbon alternative fuel that produces significantly fewer greenhouse gas emissions than diesel and gasoline in a wide range of applications. It's a proven performer in the yard and on the road.
Washington, D.C. (PRWEB) October 27, 2011
The Propane Education & Research Council (PERC) will demonstrate the ease of refueling, sustainability, and high performance of propane-fueled equipment through an in-booth presentation series at the 2011 Green Industry and Equipment Expo (GIE+EXPO) in Louisville, Ky.
Lawn and landscape industry professionals also will have the opportunity to get behind the wheel of the latest propane-fueled technology in the Outdoor Pavilion.
Many lawn and landscape contractors across the country have already implemented a proven refueling model, allowing for regularly scheduled fuel delivery through a cylinder exchange program or on-site dispensing, which includes the installation of a large tank and a no-spill dispenser. Fueling with propane can save landscape professionals time and money by eliminating or reducing the spills, leaks, and theft that plague other fuels.
"Propane is a low-carbon alternative fuel that produces significantly fewer greenhouse gas emissions than diesel and gasoline in a wide range of applications,"PERC President and CEO Roy Willis says. "It's a proven performer in the yard and on the road. Lawn and landscape contractors use propane in numerous applications that are on display everywhere you look at this year's GIE+EXPO."
Propane providers will also be in the PERC Propane Pavilion (booth No. 11198) to answer questions about propane refueling. An on-site refueling dispenser and propane cylinder cage will be on display in the Propane Pavilion, along with a ROUSH CleanTech propane-autogas-fueled Ford E-450 van.
"Propane cylinders can be kept on site in cages and are easy to swap out, which minimizes equipment downtime," Willis said. "With an effective propane refueling method already in place and fuel delivery programs available from most propane providers, fueling with propane is an easy choice."
Representatives from Blue Star Gas, Briggs & Stratton, CleanFuel USA, Exmark, Ferrellgas, Husqvarna, Metro Lawn, Onyx Environmental Solutions, and Roush CleanTech will be in the PERC booth to present the newest innovations in propane technology, the ease of refueling, and the advantages of this sustainable, domestically produced alternative fuel. Representatives from the University of Louisville, Common Grounds, Inc., and Phoenix Landscaping will discuss their experience as customers of propane-fueled products.
Susan Roush-McClenaghan, National Mustang Racing Association series driver, daughter of motorsports legend Jack Roush, and a presenter during the PERC in-booth workshops, will be in the MetroLawn booth (No. 11190) displaying a 2011 Roush Stage 3 Mustang fueled by propane autogas.
"Propane shows great promise as a valuable alternative fuel option for outdoor power equipment operators because it doesn't harm the internal components of mowers," said Kris Kiser, president and CEO of the Outdoor Power Equipment Institute (OPEI), who will be a featured presenter in the PERC booth today.
More than 30 models of propane-fueled commercial lawn mowers are available today from a dozen industry-leading manufacturers, and the 19-acre Outdoor Pavilion will provide the opportunity to test drive clean-burning mowers provided by Exmark, Husqvarna, and Scag Power Equipment, among others.
Commercial propane-fueled mowers, which reduce carbon monoxide emissions by more than 80 percent when compared with gasoline-fueled models, meet or exceed all current emissions requirements established by the Environmental Protection Agency. They are safer to use during pollution advisory periods than gasoline-fueled mowers because they emit significantly fewer ground-level ozone precursors and particulate matter, the pollutants considered most harmful to human health.
More than 18,000 participants are expected to explore the 500-plus exhibiting companies throughout 500,000 square feet at the Kentucky Exposition Center during the event, held through Saturday. For more information on GIE+EXPO, visit http://www.gie-expo.com. For more information on PERC and its programs, visit http://www.poweredbypropane.org/gie-expo.
About PERC: The Propane Education & Research Council was authorized by the U.S. Congress with the passage of Public Law 104-284, the Propane Education and Research Act (PERA), signed into law on October 11, 1996. The mission of the Propane Education & Research Council is to promote the safe, efficient use of odorized propane gas as a preferred energy source.
###